OutdoorX4 Magazine Wins Excellence in Craft Award from Texas Auto Writers Association
October 2, 2016
OutdoorX4 Magazine was awarded the 2016 Excellence in Craft award on Thursday, September 30, from the Texas Auto Writers Association during Media Day at the State Fair of Texas.
Texas Auto Writers Association
The award, which is held annually by the Texas Auto Writers Association, spotlights high quality editorial and photography by automotive journalists and publications in five separate categories including Newspaper, Magazine, Radio, Internet, and Photography. Three awards are given in each category and OutdoorX4 Magazine won first place for the Chihuahuan Adventures article and photos featured in Issue #15 of the magazine.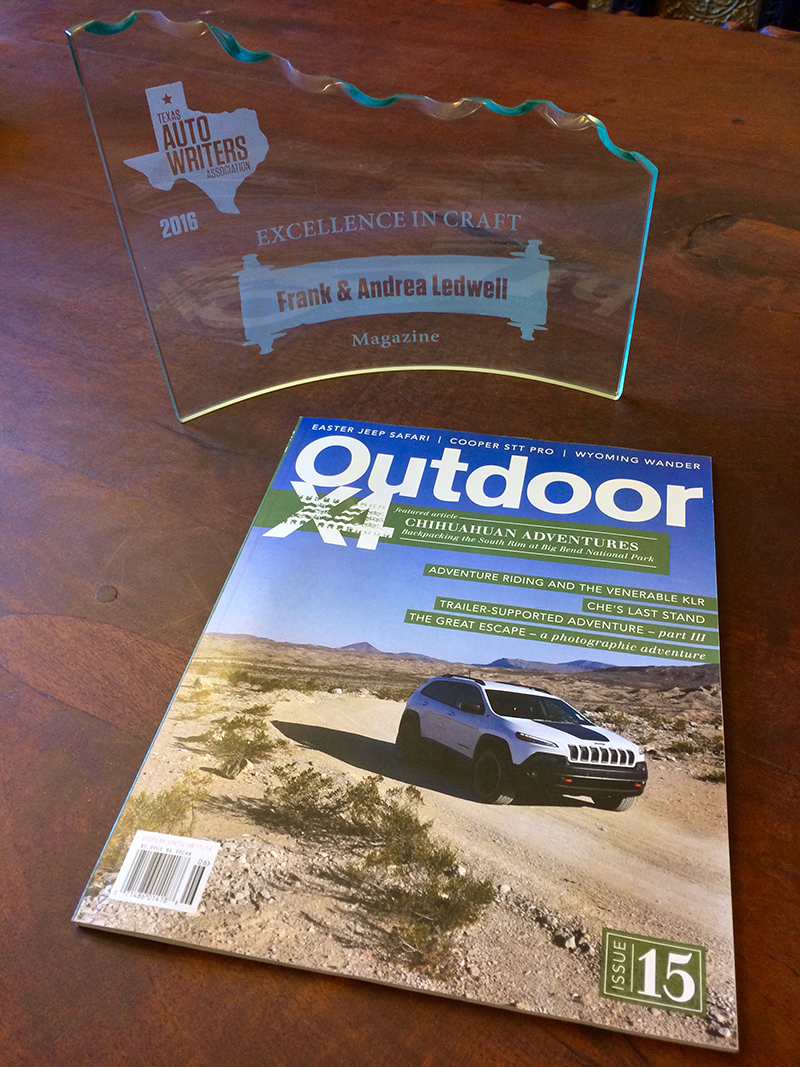 OutdoorX4 Magazine is honored to have received this distinguished award from our peers. While Issue #15 is no longer available from our online store, all subscribers to OutdoorX4 Magazine have access to the digital edition of all our past issues including Issue #15.
About the Texas Auto Writers Association
For nearly 30 years, the Texas Auto Writers Association has made its mission to promote accuracy and quality in the automotive journalism field. TAWA has grown to become one of the most influential and recognized automotive journalist associations in the United States. Journalist members of the association are among the most respected in the country.
TAWA seeks to disseminate information about the automotive industry through news related print, broadcast and social media outlets. One of the critical missions of TAWA is to provide access to companies and individuals within the automotive industry that might not be available to individual journalists, and we have become quite successful in that mission. Auto manufacturers participate in annual TAWA events in great numbers, often with CEOs or major executives in attendance, giving journalists "face time" with some of the most important people in the automotive industry. These executives realize how important their relationship is with members of the automotive press, and TAWA is one of their primary conduits with the media.
* OutdoorX4 Magazine – Promoting responsible 4×4 adventure travel and outdoor recreation