Overland Expo East, running this coming weekend from November 9—11 near Asheville, NC, will for the second year have the Metal-tech 4×4 Overland Chef Competition. If you love to cook while overlanding, this friendly competition is for you. Seven teams of one to three competitors assemble to see who can make the most glorious savory and sweet dishes using a secret ingredient supplied by Metal-tech 4×4. On the day of the competition, the secret ingredient is revealed, and each team has to figure out how best to use it. There is also an optional mixed drink component to the challenge and it is wise to participate, since the panel of celebrity judges like to be happy.
To get a better idea of how the competitions work, check out what went on at the competition at the Northwest Overland Rally in June 2018.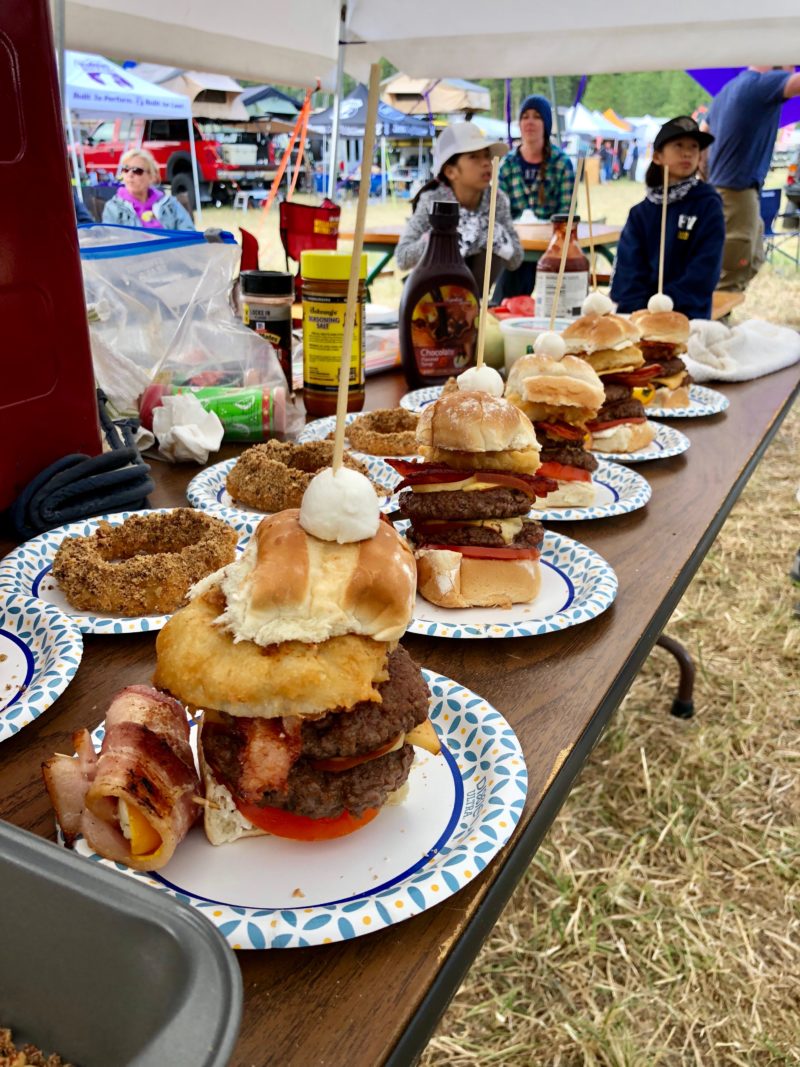 For those who love to cook while on the trail, there is no better way to improve cooking skills than by putting culinary expertise and creativity to the test in an inspiring cooking competition.
At the Northwest Overland Rally (NWOR) in the picturesque town of Plain, WA, near the Bavarian-themed town of Leavenworth, any attendee can sign up for the Overland Chef Competition. This year, six of seven possible teams took part in the two-hour competition on 30 June. The cook-off, in its second year at NWOR, was sponsored by Metal-tech 4×4.

A secret ingredient, announced the day of the event, must be used in both the savoury dish and dessert. Last year it was oranges, a relatively easy ingredient to pair with savory and dessert dishes. This year, Walla Walla onions, a Washington State favorite, made the preparation more difficult.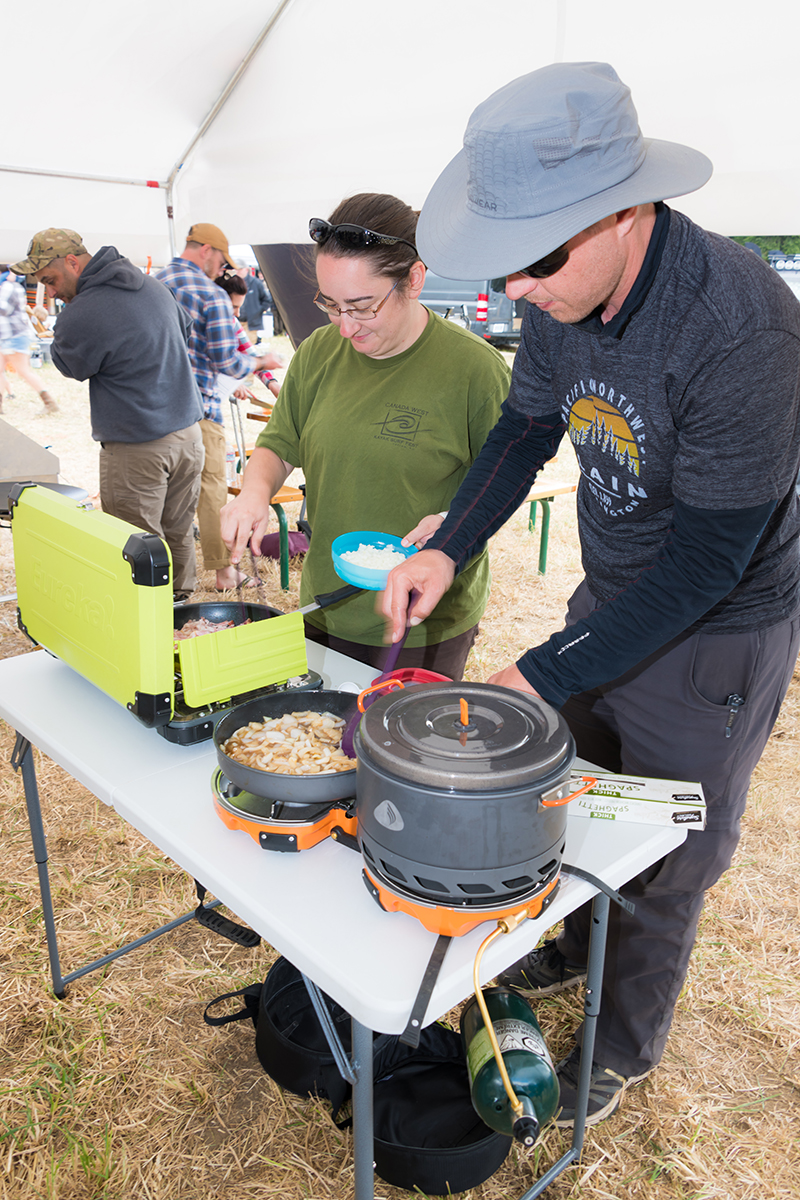 Mark Hawley, owner of Metal-tech 4×4, and his social media director Chris Miller, are keen foodies and overlanders. Said Miller, "We want folks to be inspired to see what can be done with simple cooking setups. Our secret ingredient is inspired by the geographic region in which the competition occurs. We choose an ingredient that has depth, something that should inspire creativity. We choose something that isn't super easy, but at the same time, not too challenging, either."
Hawley began this event and the other overland chef competitions — at Expo East, Expo West and the Rock Chef —  "Because food is universal: it crosses all borders, cultures and religions. It's great in these difficult political times and encourages food exploration."

A mixologist competition was also part of the event; teams vied to make the most original alcoholic drinks, paired with their meals. The judges enjoyed the drinks, though towards the end, they might have had a little difficulty focusing on the food, since each had to consume a drink from each of the six teams. But that's part of the fun.
Team Half-baked Rovers (who own Land Rovers) made a "Raspberry Defender" — Prosecco with raspberries floating on top, edible gold stars on the glass rims and a leaky glass with maple syrup drizzled down the outside. Because we all know Land Rovers are famous for leaking oil.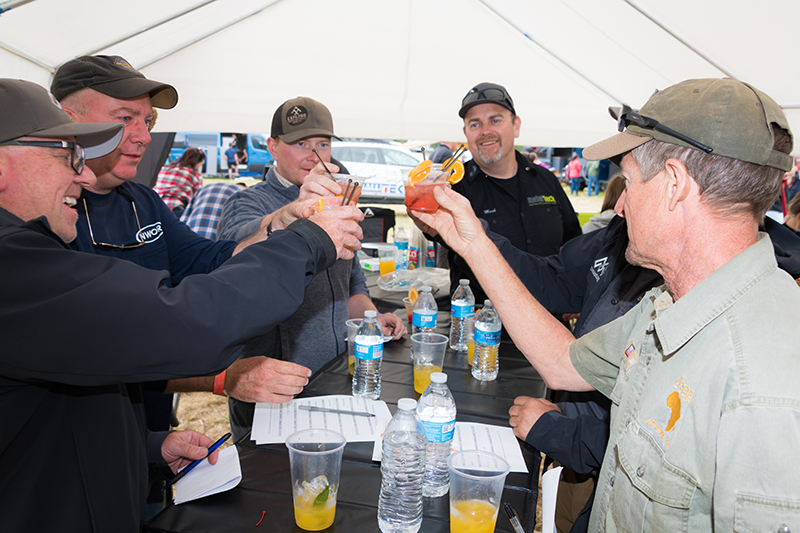 Team Not So Gluten Free, who won the competition last year, won again this year for cooking and mixology. Second place went to The Sauced Chefs, and Half-baked Rovers staggered into third place.The first-place prize was a camping cutlery set, a skottle, and a three-day emergency supply food pouch. The second-place and third-place prizes were camp stoves. All competitors got limited edition chef and mixologist badges.
Not So Gluten Free won with "Metal-tech Sliders" – double-patties with onion ring, smoked Gouda, bacon, barbecue sauce and sour cream, on a dinner roll with a bacon wrapped, cream-cheese-stuffed sweet pepper on top. Dessert was a candied onion ring with brown sugar, crushed pecans, and chocolate, filled with a scoop of vanilla ice cream, topped with a homemade butter cream sauce. The ice cream was churned using solar power. The drink was a chocolate shake spiked with espresso rum, homemade ice cream, and a candied onion ring garnish.

Coy Sinclair, of Not So Gluten Free, recounted, "Winning twice was as exciting as it was a surprise. I was pretty confident that our cocktail could win, but I figured we'd get second or third in the cook off, but not win. In fact my first thought after they announced third and second place was, damn I thought we'd do better than fourth place. But then Mark (of Metal-tech) announced that he couldn't believe that the first place team pulled it off again and I started losing my mind with excitement."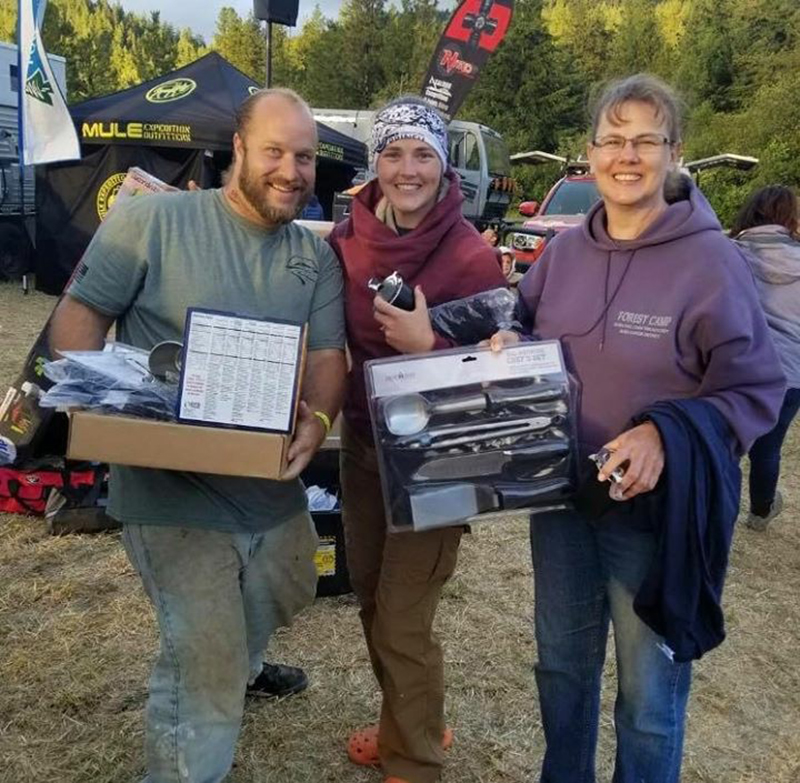 Metal-tech 4×4 plan to make the chef competition at NWOR more fun for the audience. Miller says there will never be more than seven teams — he wants to keep the competition cozy — and he wants to get more sponsorships for prizes and add some celebrity teams and judges.

* OutdoorX4 Magazine – Promoting responsible 4×4 adventure travel and outdoor recreation