Rigid Industries Releases New Radiance and 1×2 Scene Lights
May 12, 2016
Rigid Industries was the first company to release LED lighting solutions for off-road applications, so it's no surprise that the company has one of the widest selections of light bars, cubes, and other LED products that make it easy to light up the night. The company's most recent product, the Rigid Industries' Radiance™, adds even more options.  With so many products to choose from, selecting the perfect lighting solution for your application can be a little daunting.  Let's take a closer look at the features of the new Radiance and how it compares to the rest of Rigid's product lines so that buyers can make a better informed decision.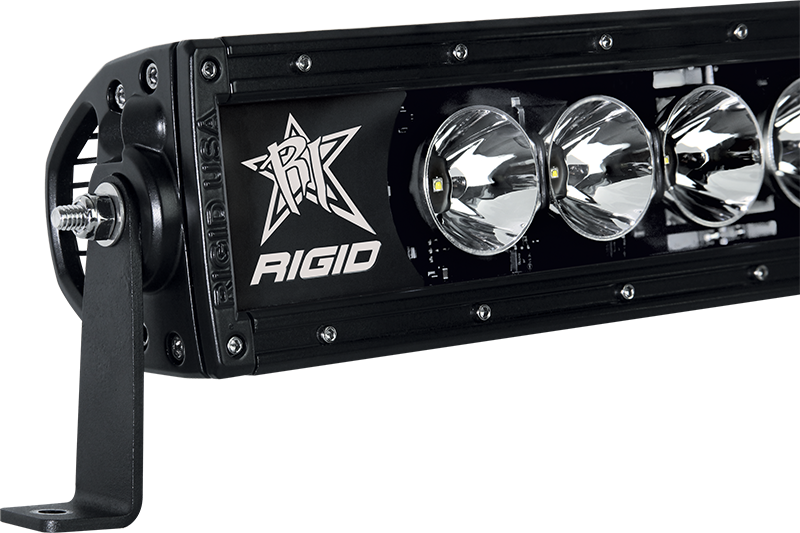 Rigid Industries
The new Rigid Industries' Radiance products are a bit of a departure from Rigid's other lines in some ways, but they offer an impressive number of features and an even more impressive price point. Right off the bat, there are several visual cues that the Radiance is different from all the other light bars out there and even from the rest of Rigid's other products.  The black powder coated high-grade aluminum alloy housing is the same as what is used with the company's Legacy E-Series lights, but that's where the similarities end. The Radiance has an exposed black printed circuit board, which gives the light bar an industrial look when not illuminated and viewed from the front. The LEDs themselves have a slightly different look than Rigid's other lines, which denotes some key features we'll examine more closely in a minute. One of the coolest features of the Radiance is that in addition to powerful cool white LEDs, there is a subtle backlighting feature that gives the light bar an accent glow. The accent color is available in white, amber, red, blue, and green.  The backlighting can be controlled at the flip of a switch to add an instant accent color to the vehicle at a car show, trail ride, or around town. The backlighting also illuminates the Rigid branding plates that flank the face of the Radiance. Both the forward projecting LEDs and the backlighting are on independent circuits, enabling the user to control each one on separate switches.  A multi-switch wiring harness is sold separately with all Radiance light bars.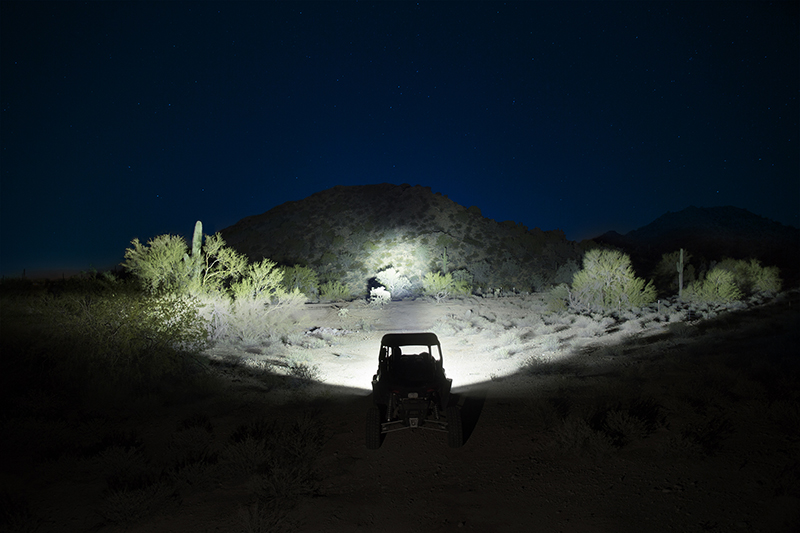 Another unique feature of the Radiance involves forward projecting Broad Spot Optics, which combine the attributes of a spot and flood beam pattern to create a unique beam that illuminates the road ahead. The LEDs are protected by a high impact Polycarbonate lens, built in heat sink, and a GORE pressure-equalizing vent. This optic varries from other Rigid products, which are available with patented Hybrid, Specter, and Hyperspot optics to offer excellent long distance lighting with very little waste.  The Broad Spot Optic utilized in the Radiance falls in between a spot and a flood pattern, making it a good choice for general, all-around off-road lighting solutions.
The Radiance light bars are available in 10″ to 50″ lengths and are an excellent choice for an enthusiast that is looking for an entry-level lighting solution with Rigid's legendary quality. The accent lighting, unique branding plates, optics, and price point make it a very well-rounded product for those that want the rugged look of modern LED technology with many of the same benefits that Rigid offers in its other product lines.  The Radiance line is also backed by the legendary Rigid brand and a 10 year Limitied Warranty, which offers great peace of mind.  Dedicated off-roaders that will be subjecting their off-road lighting to sustained heavy vibration and more extreme use may better appreciate the rugged features of Rigid's more traditional product lines, as they also offer more application-specific lighting options and a greater variety of configurations.  Without question, the Radiance line represents a better value than much of the no-name LED lighting products on the market, as they are backed by Rigid's reputation and quality control. It's clear that no matter what your off-road lighting needs and budget happen to be, Rigid Industries can help you light up the night.
Rigid's 1×2 Scene Lights for Your Toy Hauler
UTVs have to get to the trail somehow, and many UTV owners also own a toy hauler.  What better place for off-roaders to turn for RV lighting upgrades than the same company they trust to light up the trail? The new Rigid 1×2 Scene Light is an easy upgrade for any toy hauler or RV. The 1×2 Scene Light has the same high-grade aluminum alloy housing that all other Rigid lights are known for.  It measures just 4.8" x 2.3″ overall and the mounting options are endless.   The flush-mount design of the housing enables it to be mounted on any flat surface.  The 1×2 Scene Light places the light at a 65° angle, so when the light is mounted approximately 10 feet high on an RV or trailer, it projects a broad beam that covers about 25 square feet and has a lot of ambient spill light. If more light is needed, the 1×2 Scene Lights can be paired and evenly spaced along the wall of an RV to create even more light over a larger area. Rear-mounted Scene Lights are also handy for lighting up the loading ramp of a toy hauler after dark. The flush-mount housings are available in white and black and give the lights an OE-quality finished look, while the LED lighting itself is offered in cool white or amber.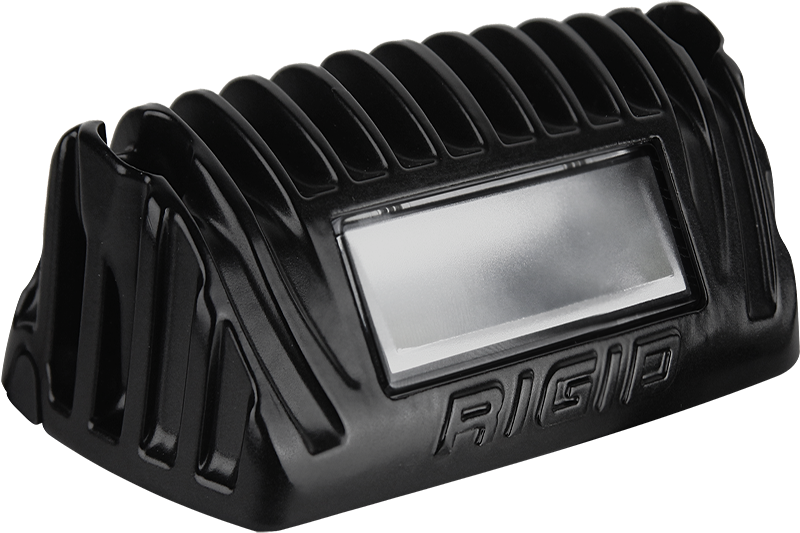 Power consumption is always a big concern, and traditional lighting products tend to drain batteries quickly. One of the biggest advantages of the 1×2 Scene Light is that it delivers 1100 raw lumens while consuming only 0.75 amps. There's no need to worry about leaving the Scene Lights on so you can find your way back to camp after a late-night trail ride, and they can illuminate the area around camp for hours without disturbing neighboring camps with a generator.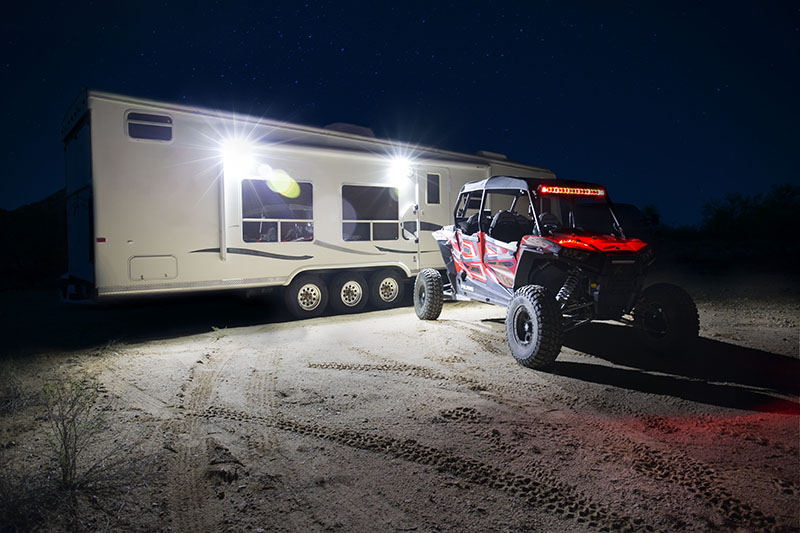 Whether you're upgrading an older camper with new LED lighting technology or simply adding additional light to a new RV, the new Rigid 1×2 Scene Light is a clean, simple, and easy-to-install option for the owner of any trailer, RV, or toy hauler.
* OutdoorX4 Magazine – Promoting responsible 4×4 adventure travel and outdoor recreation