Prehistoric art, usually referred to as rock art, is a big interest of mine when I'm out exploring in the backcountry of the southwestern United States. I've put thousands of miles on my Jeep, hiked hundreds of miles, and worn out many sets of tires and hiking boots in the search of rock art on the Colorado Plateau.
Whether it's paintings or peckings, rock art is always exciting to find. There are two types of rock art you may find on your trips: petroglyphs and pictographs.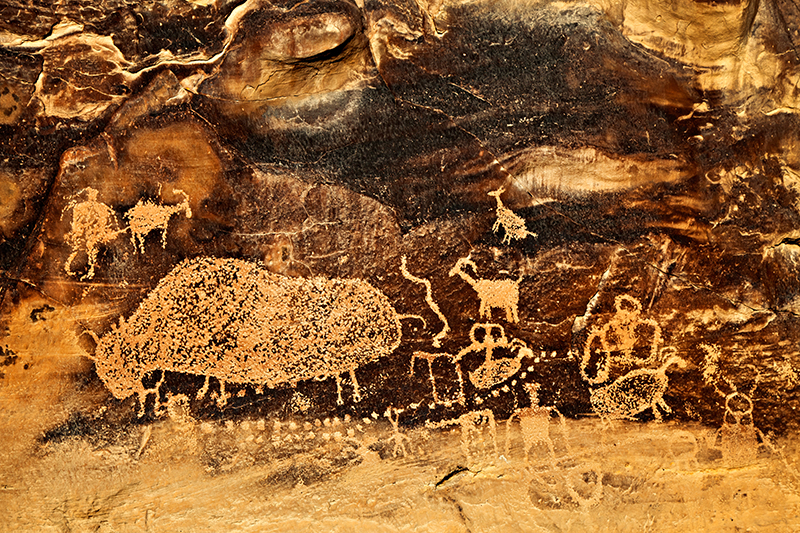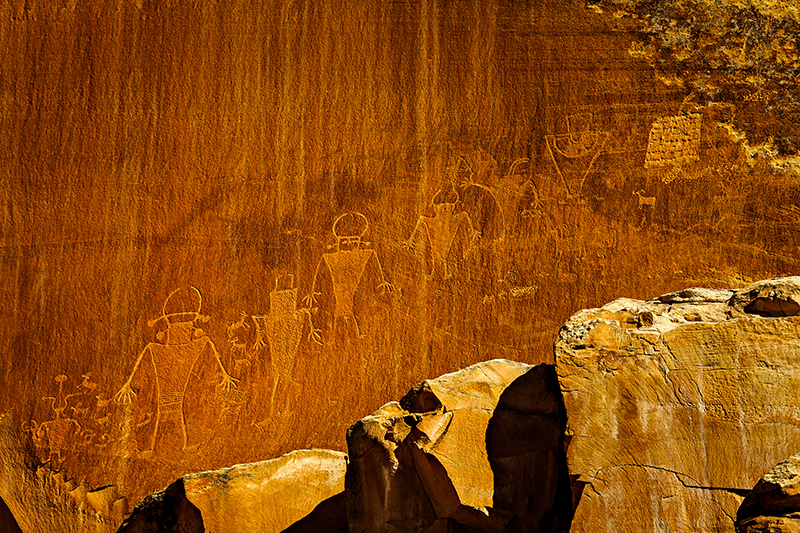 Petroglyphs are pictures or other symbols that are carved into the rock by pecking, incising, and scratching. Pictographs are paintings on the rock surface. You can see a variety of different figures including animals, anthropomorphic and many other abstract representations. Since the drawings do not present a written language, as we know it, their meaning is left to our imagination. When viewing rock art it is important to keep in mind that the real importance is not necessarily found in literal meaning, but rather in the thoughts and feelings that result from the viewing.
Because we are privileged to be looking at these abstract expressions of earlier peoples who lived in these lands, precautions must be taken while visiting rock art sites. Please use the following site etiquette while at these sites so others can enjoy the experience in the future the same way that you have. Since the oils on your fingers speed the erosion of rock art, don't touch these ancient traces of previous cultures. The taking of molds, prints or rubbings from rock art or adding modern additions is vandalism. Also, please do not camp or build fires near archaeological and rock art sites.

Styles of the Colorado Plateau
Barrier Canyon Style:
On the Colorado Plateau, there are a few different and distinct types of rock art to be found. The oldest and my favorite to find are classified as Barrier Canyon Style. These rock art sites are usually found within drainages of the Colorado River in southern Utah. It is believed western Archaic Native Americans created these paintings, possibly as early as 8,000 years ago. Evidence suggests these people were hunters and gatherers moving on season rounds within a specific territory.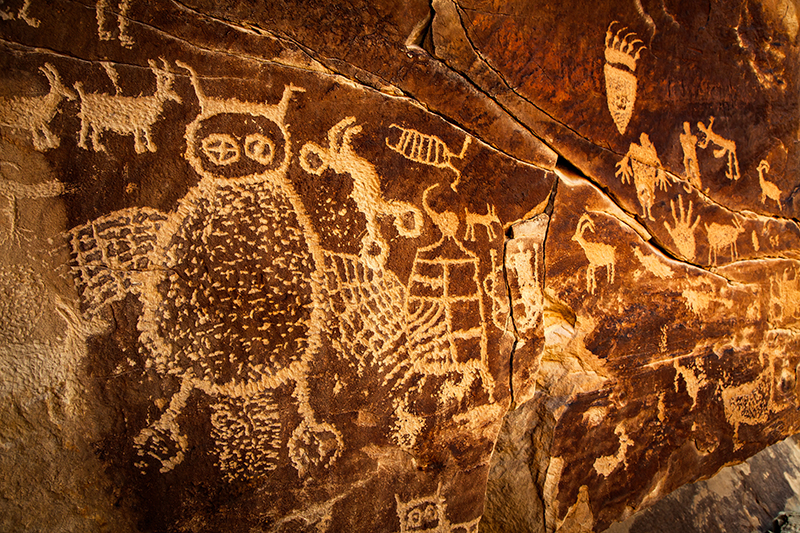 Fremont Style:
While the Pueblo people occupied the southern parts of Utah from about AD 300 to 1350, a culture called the Fremont occupied the rest of the state. Evidence suggests these people were not as committed to agriculture as the Puebloans and reverted back to hunting and gathering when the conditions were not favorable for farming.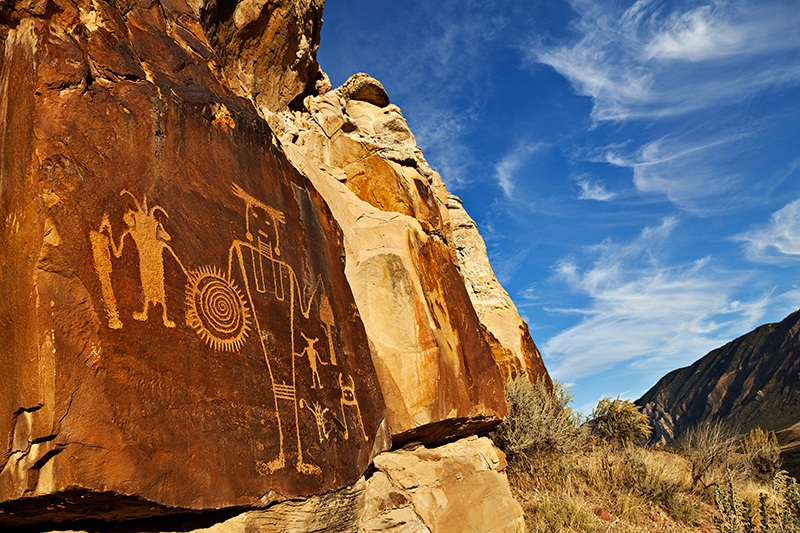 Ute Style:
The Ute rock art style is very distinct from the Pueblo styles in technique and types of imagery. After AD 1600 and the arrival of the horse, imagery such as horses, bison and teepees appeared in Ute rock art panels.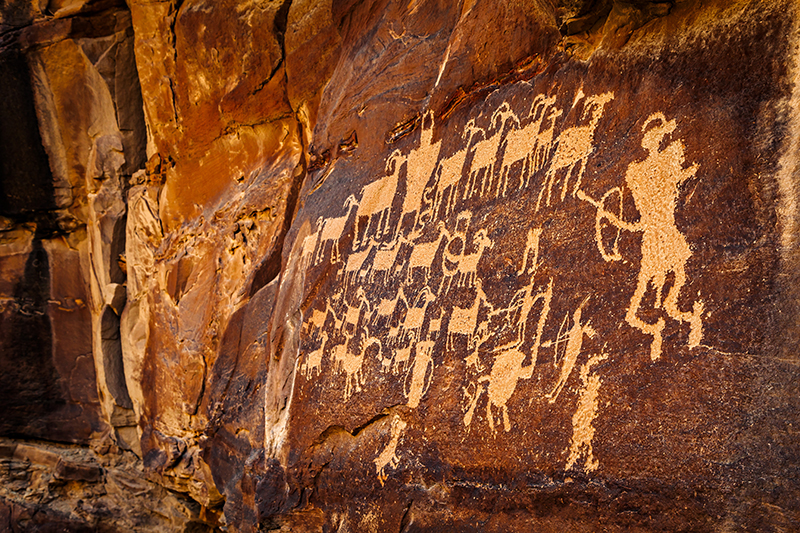 Locations to Visit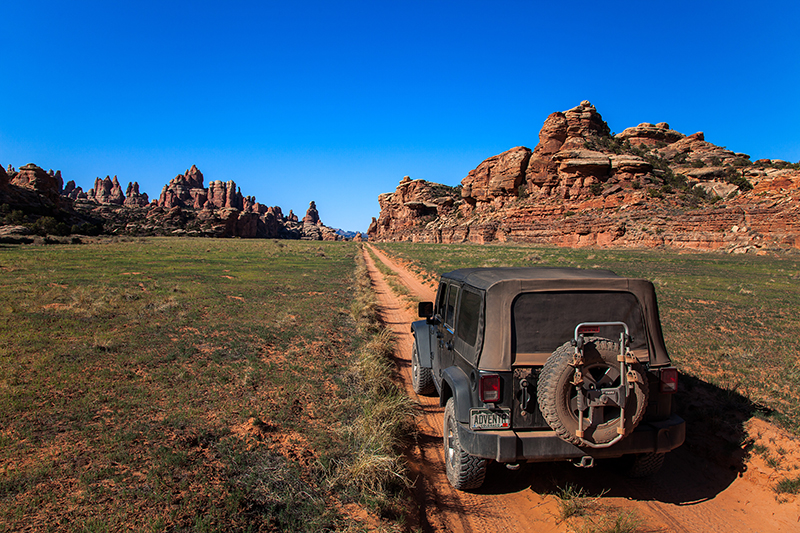 Sego Canyon (Thompson, Utah) N 39° 1'5.20″ W 109°42'37.30″
One of the easiest locations to see a couple of the main rock art styles on the Colorado Plateau is in Sego Canyon, just north of Thompson, Utah. This site in the Book Cliffs contains a few large panels of rock art that include Barrier Canyon Style, Fremont and Ute all in one place. Some of these panels were heavily vandalized at one time but were restored many years ago by the BLM. If you drive further up Sego Canyon you can also visit the old ghost town of Sego including many old coal mine relics. Plus, you can enjoy a nice drive in this beautiful canyon.

Nine Mile Canyon (Wellington, Utah) N 39°46'48.03″ w 110°25'27.97″
Nine Mile Canyon is often referred to as the "world's longest art gallery" because it contains so much rock art throughout the canyon. While I cannot state that this distinction is accurate, I can tell you there are a lot of Fremont and Ute petroglyphs along the length of this canyon waiting to be found if you have the time and dedication to search for them. I have spent many weekends searching this canyon over the years and always seem to find something new each time.
To reach this canyon you can follow the signed road to Nine Mile Canyon from Wellington, Utah. Keep your eyes open along the drive as there are a few signed and developed sites along the way including the 'First Site' and 'Daddy Canyon'. There are also plenty of unmarked sites waiting to be found. Just remember to respect private property and view these sites from the road.

Horseshoe Canyon (Green River, Utah) N 38°26'49.54″ W 110°12'46.17″
For those looking for more of an adventure with a longer hike, Horseshoe Canyon in Canyonlands National Park is not to be missed. This is probably one of the best and largest examples of Barrier Canyon Style rock art to be found anywhere. This is about a seven mile round trip hike down to the Great Gallery with three other large rock art sites along the way. I highly recommend this hike in the fall when the cottonwoods are changing color. During the spring and summer months there are ranger-led hikes to visit all of the sites along the way. While you are visiting Horseshoe Canyon you can make an even longer trip by exploring the nearby Maze section of Canyonlands, which offers incredible scenery, solitude, and 4×4 adventure.

Photography Tips
I spend quite a lot of time photographing rock art. Below, you'll find a few quick tips on getting better photos for your next rock art adventure.
Polarizer – If you really want the rock art to stand out, I have found that using a polarizer all the time helps to add a little extra contrast and remove any glare that may be present, especially in direct sunlight.
Sunlight or shadow – While I have made a few successful images of rock art with part of the panel in the sunlight and part in the shade, I find it much easier to photograph a site when it's either all in the sun or all in the shade. This may require waiting a while for the sun to move or multiple visits to a site; however, it can be worth the extra trouble in the end. I usually prefer to photograph a site when it is all in the shade as the reflected light off a nearby canyon wall can add some spectacular color to the scene.
Make the image dynamic! – Unless all you want is a straight on documentary-style picture of the rock art, make sure to try different and unique angles. Try to find something interesting to put in the foreground of the image such as a boulder, tree, flower or even lichen. Include the surrounding area and sky to help give the rock art a sense of place.

Editor Note: This article was previously featured in Issue 2 of OutdoorX4 Magazine. Visit our Issues page HERE and subscribe to OutdoorX4 Magazine HERE to access all our past issues in digital with your print subscription.
* OutdoorX4 Magazine – Promoting responsible 4×4 adventure travel and outdoor recreation