Even if you consider yourself a minimalist, having the ability to carry gear is important to every expedition or adventure. A roof rack vastly increases your cargo carrying capabilities, but which rack is the right one for you? We're taking an in-depth look at a few of our favorite racks.
It may seem like a pretty simple purchasing decision, but selecting the right rack can quickly become a daunting task. With the recent surge in vehicle-based adventure travel, it's important to find clever ways to store and carry all of your gear. There are many roof racks on the market and they range from simple load bars to complete systems with accessories and attachments for carrying anything you can think of. It's a great time to be shopping for a roof rack.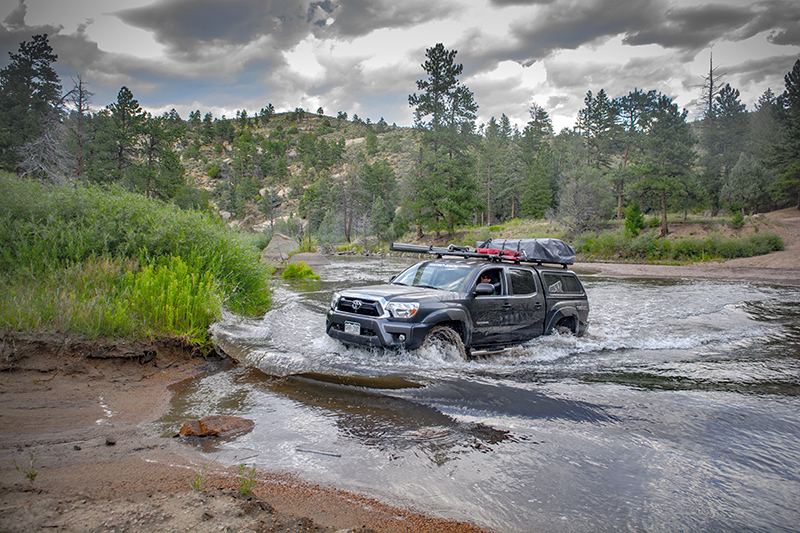 Before selecting a rack, it's important to consider what you plan to carry on top of your vehicle. If you keep a roof top tent on your vehicle all the time, do you really need an intricate rack system? A basic rack may be a better choice, as it will save weight and money. Regardless of how much weight a rack manufacturer says their rack can carry, it's important to keep safety the number one priority when loading your rack with gear.  (OutdoorX4's Overland Columnist, Jonathan Hanson, covers the safety considerations of carrying gear on your roof rack in OutdoorX4 Issue 14.) 
As with most vehicle modifications, adding a roof rack has its drawbacks. The additional weight and increased wind drag will negatively impact braking and fuel mileage. Wind noise is also an issue. Since the first thing most people do is attach lights to their rack, it becomes even noisier.  Some rack manufacturers address the noise issue by including or offering a fairing which reduces wind noise, while others do not have that option. Fairings are relatively simple to build yourself by using ABS plastic or something similar from any plastics store.

Do you want your rack surface to be flat, or would you prefer a basket-style rack? A flat rack is more suited to carrying a roof top tent and a basket is more suited to carrying smaller items that need to be strapped and held tight against the edges of the basket. Flat racks offer a lower overall profile as well. If your vehicle is already lifted and has plus-sized tires, a basket rack could add six inches or more to the overall height of your vehicle. Even a flat rack may add a few inches depending on whether your vehicle already has roof rails. In some cases, you can find a low profile rack that will actually save you space by removing the factory installed roof rails. If you're already close to maxing out the height of your garage door at home, you'll want the lowest profile rack available.
​Finally, you have to like the way the rack looks on your vehicle. Every rack featured here looks great and performs just as you'd expect, but not every rack is made for every vehicle. Most manufacturers do not make racks specific to one brand or vehicle model; rather, they make a few different sizes of racks with mounts that are vehicle-specific. You'll want to take your own measurements and see which rack is the right one for you and your vehicle for both practical and aesthetic purposes.
Roof Racks
The following highlights a variety of options available for your adventure vehicle. We've carefully selected these options based on price and functionality, highlighting the key features we like and dislike so that you can make an informed purchase decision.
BajaRack 5" Basket Rack 
$695.00
by Bill Dragoo
Nights are cold in Colorado above 9,000 feet, especially in October. Campsites are often scoured clean of suitable fuel. I scan the woods along our trail for firewood, preferring to scrounge from deadfalls rather than adding to the carnage sometimes left behind. It's not uncommon to find evidence of live trees cut, presumably for someone to try and burn.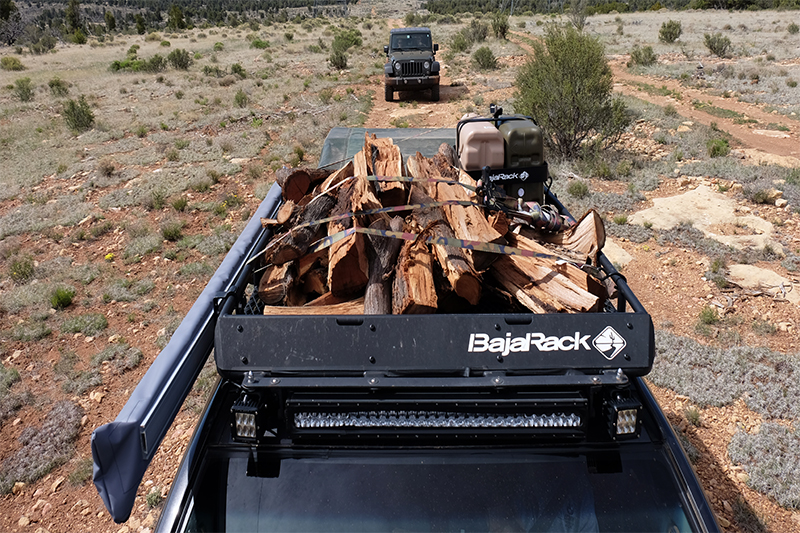 We pass an area where several tall, skinny trees lay entangled after a storm. I pull over to gather a few and, with Susan's help, pile them atop our 5" basket-style BajaRack without a thought to its ability to carry such an ungainly load. In five years of ownership, it has never failed us. I drive away tentatively, with trunks protruding several feet in front and behind the truck…
Sergio Murillo, owner of BajaRack, sets a high bar for those in the business of building adventure racks. His all-steel (read field-repairable) construction and simple but efficient design is hard to beat. Our rack was built with linear and lateral cross bars and an expanded steel mesh floor, and is protected with a tough powder coat finish that, to date, has stayed put. In addition to carrying whatever needs to be carried and affording placement for our Rigid LED lights, shovel and axe, Susan uses it often as a photography platform. With no holes to step through and a solid substructure, our BajaRack provides security when standing. It also helps that nothing can fall through to damage the top of our truck.

An important feature of BajaRack's design is that it mounts to the original factory points on the truck. They are hidden beneath the rubber trim, but the instructions clearly depict how to access and utilize this sturdy array of threaded factory receptacles. Available accessories include brackets for shovels, axes, Hi-Lift jacks, jerry cans, awnings and more. A properly sized BajaRack can also be mounted over a truck bed, camper or trailer. We have not had a single issue with our BajaRack. Our truck is built for rough and rapid travel, and vibration can at times be intense. We have never experienced a crack or warpage and only once have we had to re-torque mounting hardware. BajaRack's standard air deflector does an effective job of minimizing turbulence but some noise still exists any time an object is placed into the wind stream. It is not, however, an issue and we quickly became accustomed to the sound.
 …The sun slips behind the mountain as we unload the rack and start breaking up the wood for a fire. We build a nice one and open a bottle of Malbec. It feels good to know we have enough fuel to sit up awhile, enjoying the warmth on a chilly Colorado night.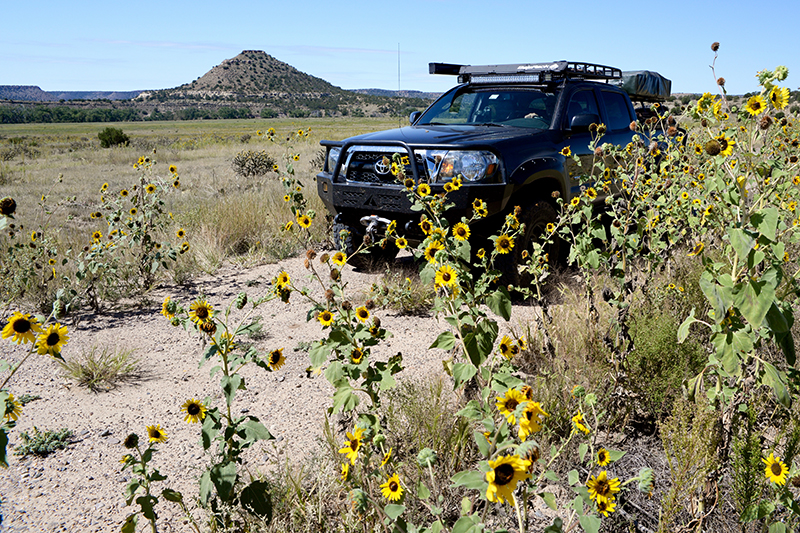 Likes:
Easy mounting in factory-provided location
Light considering its strength, only 46 lbs.
Superb quality at a reasonable price
A wide range of useful accessories
Plenty of places to tie down a load
Mounting tabs for lights
Dislikes:
Gamiviti Roof Racks
$828+
by Frank Ledwell
Two years ago I decided to begin the build of a 100 Series Land Cruiser with the express intent of having a vehicle built to handle all of my family's adventure needs. As part of the build, it was obvious that I needed a quality roof rack system to support our roof top tent as well as store additional accessories we would need during our travels. I needed a rack that would allow me to use our sunroof in the event we needed to extract from the vehicle in an emergency, and I wanted a rack that was unique. I chose Gamiviti Racks and have been pleased ever since.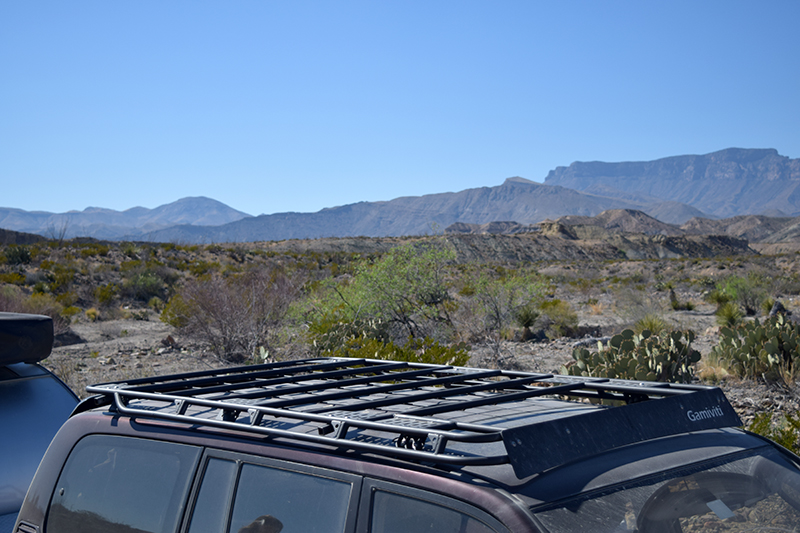 Gamiviti is based in Colorado and they hand-build each of their rack systems. While they specialize in Toyotas they are fully capable of building a custom rack for virtually any vehicle platform, be it a Jeep, Land Rover, Nissan, or Unimog.
Each rack is built using 1" hot rolled electric welded tubing with professionally TIG-welded seams and joints. I particularly like the slotted mounting plates integrated into the design, as they offer a myriad of ways to mount your gear. Additionally, the rack's low profile is no taller than OEM rack rails on most vehicles and its sleek, seamless design is easy to access. You can also flip the rack over if you prefer a basket-style rack in the event the gear you're carrying needs the added security of side rails. I've also added awning mount attachments through several of the slotted mounting plates, making it easy to install and use an awning system while keeping the mounts under the rack and non-invasive when the rack is under load.

 As for the rack's load, I've had up to 550 lb. on top of my Land Cruiser and the rack, as well as the vehicle, has handled this weight with ease. I've also added a front fairing to the rack to limit the whistling sound from air flowing through the tubes (a common problem).
 I've been continually impressed with this roof rack and the customer service by the company's owner, Tim Nakari, has been absolutely exceptional. Gamiviti has options for virtually any vehicle on the market if you provide the specs for a version not listed on their website — with Gamiviti, you definitely can't go wrong.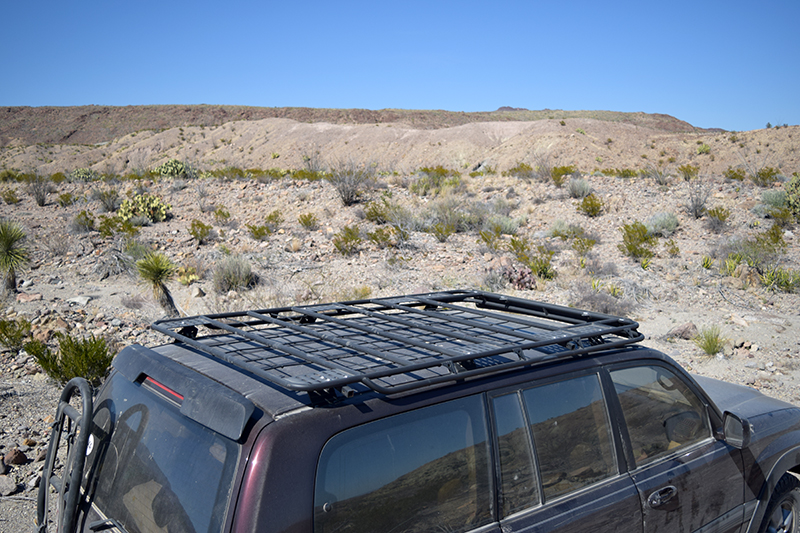 Likes
Hand-built quality

Low profile

Cost is quite reasonable

Flips over to allow multi-functionality
 Dislikes:
 

While customized options are available, there are currently no stock fitment options for vehicles other than Toyota
GOBI Stealth Roof Rack
$1,595
by Brad Thompson
In my search for an "expedition-style" rack several years ago, I learned that the GOBI line of racks is manufactured close to where I was living at the time, in the Denver, Colorado area. I took advantage of this and visited the owner at his shop to see firsthand how his racks and accessories are created. After more than six years of having a GOBI Stealth Roof Rack installed on my 100 Series Land Cruiser, I have had plenty of time and adventures to attest to its features, and to share an objective opinion on its overall performance.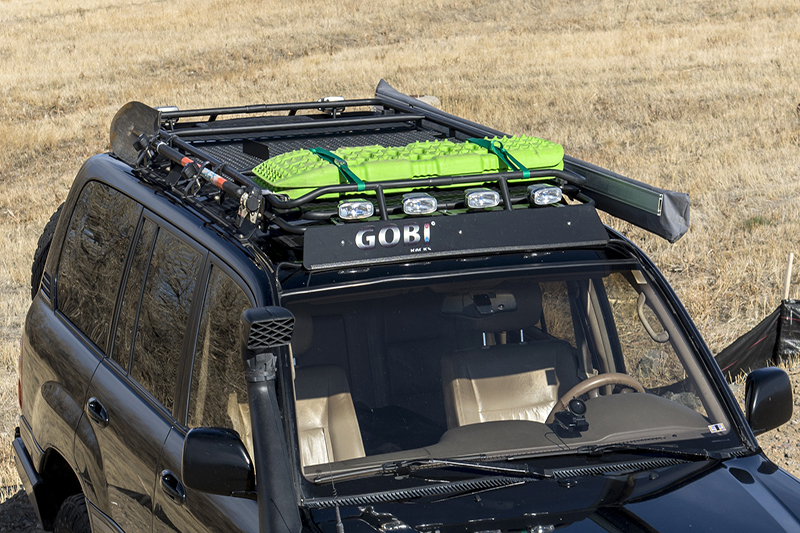 I have used my rack for many different tasks: carrying wood, extra fuel, traction devices, skis, bikes, and cargo boxes. The rack is also strong enough to support the weight of a couple of people for photography or just to get a better view. Having used Yakima cross bars on other vehicles in the past, I had several accessories that transferred over and fit perfectly on the GOBI rack, as their bars are the same diameter. This fact alone was a huge selling point for me and may expand your options as well.
The mesh floor of the rack makes it easy to hold almost anything you throw up there, while allowing excellent drainage for rain and snow. I have the extra removable panel over my sun-roof, which has stayed in place most of the time, but provides the option to pop up and look around on my next African safari.
GOBI also makes several well designed accessories. I have used the combo shovel/axe mount, the Hi-Lift jack mount, and the ratchet straps extensively. All have performed their specific jobs quite well and I would highly recommend them. GOBI has also designed a creative system to prevent gear from sliding around, with movable angled steel sections which mount to the floor of the rack. I have one of these positioned for a folding table that fits snugly now, for example.

The GOBI fairing fits nicely onto the rack and certainly reduces the wind noise. I chose the smaller PIAA lights for both front and back because at the time of my purchase, the LED options were few, and were very expensive. In addition to their "cool factor," extra lights are especially great when you are rolling into an unknown, remote camp spot, late at night. There are now some excellent options from Rigid Industries which mate nicely to this setup.
At first, I was slightly disappointed that the rack for my vehicle is 46" wide, and narrower than the roof top of my vehicle. I wanted the extra 3-4 inches across my roof deck, but have since come to appreciate this design feature because when I have my shovel/axe, Hi-Lift jack, or awning mounted on the sides of the racks, they do not hang out over the sides of my vehicle. The other consideration regarding the width is that it may not be able to carry some roof top tents. Simple crossbars or a totally flat roof rack may be preferable over the GOBI, if you are planning to use a roof top tent.
You also must determine if you will love or loathe the two cross bars the rack uses for strength, as they divide your roof rack into three different-sized sections. For me, this works fine because traction devices (MAXTRAX or TRED Pros) fit perfectly in the front section, along with my table and folding chairs which go in the middle section, and the back section is just the right width for a pair of NATO jerry cans or a bunch of firewood, or both. I also use the cross bars as lash points for my straps to hold gear in place. They work well for me.
GOBI makes a solid product, with great accessories that are well designed. More than six years later and it's still performing as it did on Day One!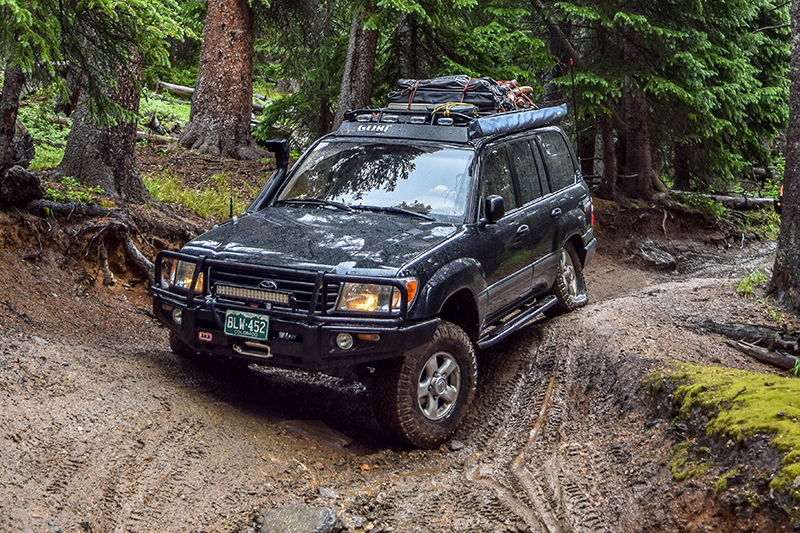 Likes:
Solid construction
Great accessories including adaptability of Yakima attachments
Mounted tabs for light mounts on both front and back of the rack
Dislikes:
Would like for it to be 2-4″ wider
Hard to wash the roof below the expanded metal floor
Kargo Master Safari – Congo Pro
$1,067+
by Bob Wohlers
It was the SEMA Show, 2015. I remember the first time I saw a Kargo Master Safari (KMS) Congo Pro rack on a Jeep JK Unlimited. From the aisle the rack attracted my attention, so I wandered into the KMS booth. Rustin Smith, President of KMS, gave me a personal tour of their many racks at the show, explaining all the benefits of their trail-proven and well made products. Each rack model he showed me for the Jeep JK was superb – Congo Pro, Lo-Pro, and Classic Congo. But I was smitten with the Congo Pro and its unique EZ Access accessories. I had to have this rack on my company vehicle – the Jeep I use to teach my 4WD courses and lead my off-road adventure tours. You see, I carry lots of stuff into the backcountry and I had already run out of room inside the vehicle. I needed a Congo Pro for pure utilitarian reasons, but I wanted it on my adventure vehicle because it just looked cool.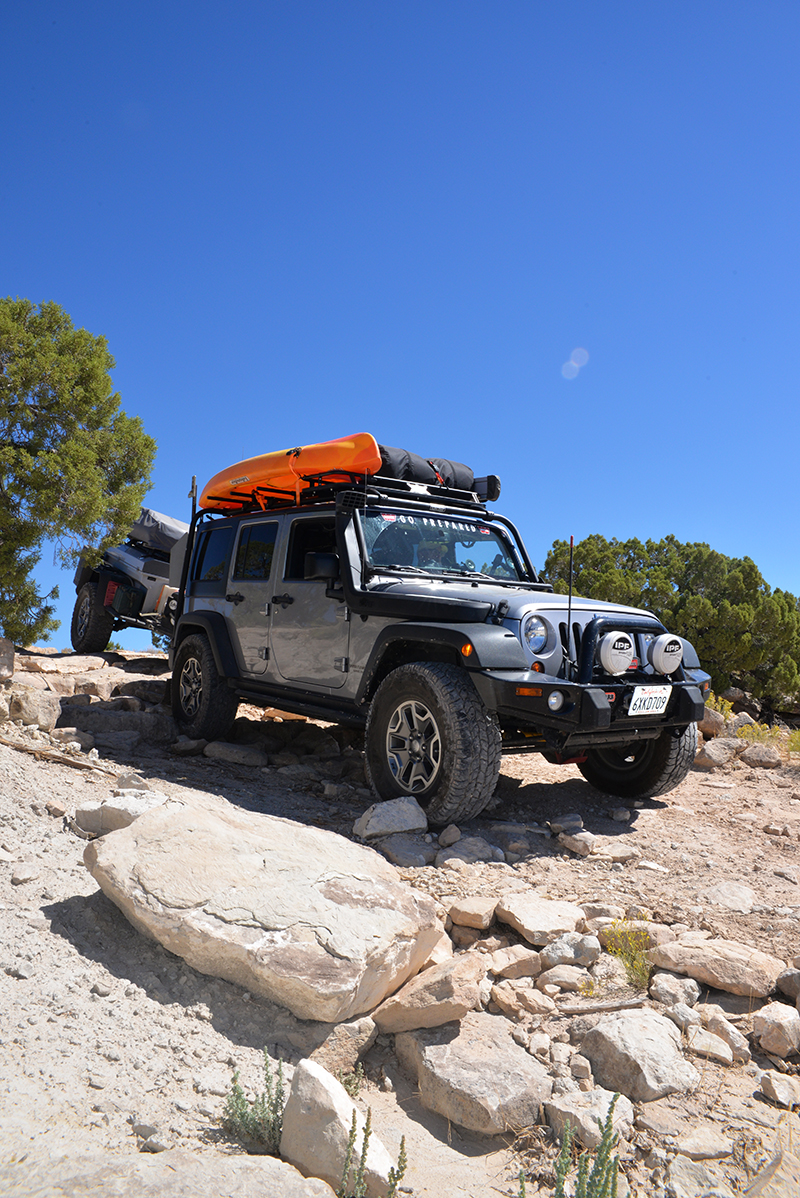 I've had a Congo Pro on my Jeep for a little over a year now. I can truthfully say I'm very pleased. It's one of the best aftermarket accessories I've purchased. I've climbed up on it, beat on it, and for a time I had a roof top tent on it.
The Congo Pro rack is a true modular, exoskeleton cage system made for the Jeep JK 2- or 4-door models. Drilling through the Jeep hardtop is not required. The base package cage system comes with three main 2 inch/5 cm tubular parts: Front Hoop (with or without welded hand-hold handles), Roof Rails and Rear Hoop.  These three parts assemble and attach together easily, using heavy duty CNC clamps secured with Allen bolts. Loading strength, rigidity, and stability are all characteristics of the Congo Pro.
The base package also includes brackets that support the Rear Hoop by directly attaching to the Jeep frame around the stock bumper. Soon to be included with the standard rack kit are brackets for the popular American Expedition Vehicle aftermarket bumper. With minor modification, the Rear Hoop can also attach directly to certain other aftermarket wrap-around rear bumpers. The Front Hoop attaches solidly to the vehicle body on both sides of the windshield frame. All the attaching hardware are stainless, high strength industrial grade fasteners.

Obviously, an overland rack must be solid. Rack noise and movement when traveling on the highway and uneven challenging terrain are very annoying. The Congo Pro scores high on these points. Beyond the necessity for these important basic considerations, the accessories made for a particular rack matter most, allowing me to tailor my Jeep to suit my own personal needs. KMS rack accessories can be divided into several categories – EZ Access Products, baskets/platforms, and cross-member supports.
Even though I don't put heavy equipment on my rack (I like to keep the weight on my rack at or below 4 to 6 percent of my vehicle's GVWR), I still put quite a few lightweight and soft waterproof items on top. Since I'm not as agile as I once was, getting to these items easily is very important to me. KMS's EZ Access products are unique and very inventive. These include their JK Hinges Step, Kat-Walk, and Grab Handles. Rack ladders on the rear of a vehicle work, but more often than not I also need elevated access up the sides and front of my vehicle. From the side rock rails on my Jeep, it's an easy step up and on to a KMS JK Hinge Step. Once on the Hinge Step I can hold onto the rack's long Roof Rails or a KMS billet aluminum Grab Handle that can be positioned anywhere on the rack. I've put four Hinge Steps on my Jeep, two on each side, and a couple of strategically positioned Grab Handles.

From the front Hinge Steps (right or left side), I can easily step up on the KMS JK Kat-Walk, a non-slip step platform that spans the entire length of the windshield. This Kat-Walk hovers just above the hood and wipers, but doesn't restrict front visibility from the driver or passenger seats. Standing on the Kat-Walk (it can support 350 pounds/159 kilograms) I can easily reach items stored in my rack's front KMS basket. I have to admit, it was spying the Kat-Walk that sucked me into the KMS booth in 2015. I knew immediately what that platform was for. No other rack manufacturer has anything similar.
The Congo Pro's two side Roof Rails provide generous attachment space for other accessories, including loading racks, baskets and platforms, grab handles, and light bar mounting kits. None of these accessories require any drilling. All attach with solid, well made aluminum clamps and included stainless hardware.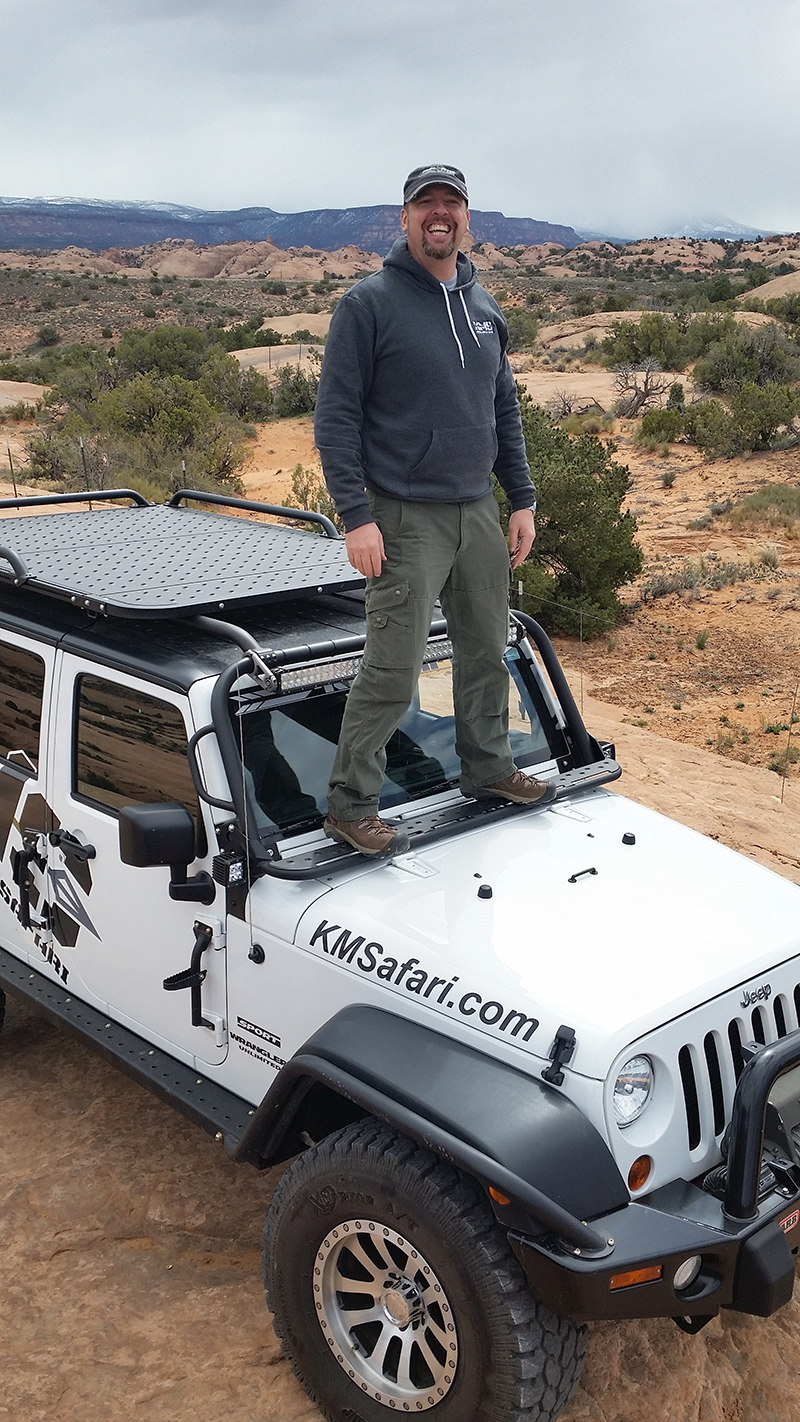 Likes:
Solid, tight connections and attachments to frame and body
Generous accessories, allowing full customization for any off-road or overlanding needs
EZ Access accessories for reaching anything placed on the rack
Looks like it belongs on an adventure vehicle
Great KMS customer service
Dislikes:
Need to offer specialized mounting accessories for today's popular awnings
Rhino Rack Pioneer Platform
$499+
by Stan Wright
Rhino Rack USA, the American division of Australia's most diverse and innovative manufacturer of roof rack products, has quickly become a mainstay in the American roof rack market. Based on the sheer number of racks, attachments, options and accessories they offer, their growth in the U.S. market is not surprising. They offer racks and accessories for absolutely any vehicle you can imagine. Fitment and finish are top-shelf and after the rack is mounted to your roof or truck bed, you can start deciding which accessories you're going to carry. If you have a piece of gear that you never leave home without, Rhino Rack has an attachment or mount to carry it.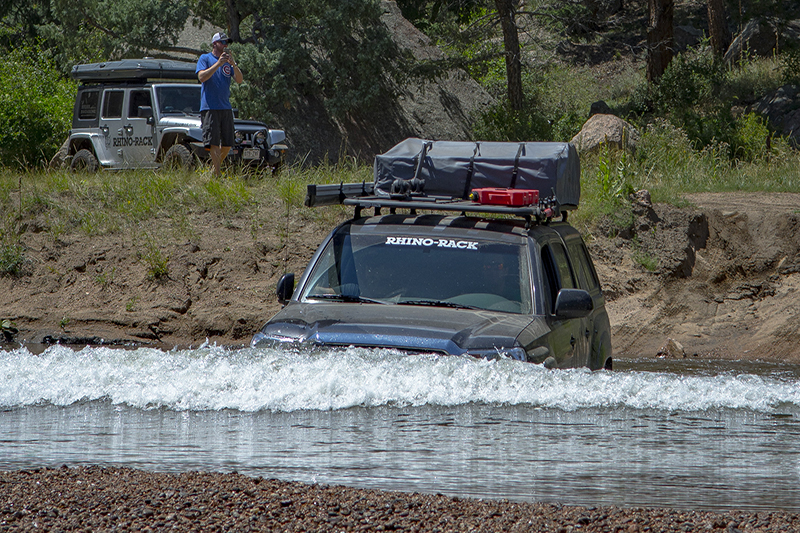 The Pioneer Platform is the most versatile roof rack that Rhino Rack offers. Each vehicle will have mounting towers for the Pioneer Platform to mount to that have been designed specifically for your particular vehicle model. Then you can decide which size platform you'd like. I chose one of their largest platforms for our Land Cruiser and was very surprised at how little it weighs. Made from aluminum and reinforced nylon, there is never any concern about rust. The list of available accessories and product-specific mounting solutions is staggering. Everything attaches and connects to the tray securely and there are never any rattles or loose parts. One incredibly unique option is a roller bar that mounts to the rear of the rack. This roller makes loading large, bulky and heavy items onto the rack much easier. It also alleviates the need for an extra set of hands to load many of these items. It makes loading a kayak or canoe a simple one-person job.

For Jeep Wrangler owners, Rhino Rack offers their BackBone with Pioneer Platform. The Rhino Rack BackBone installs discreetly on the interior of a Jeep to strengthen and reinforce the rack's carrying capability. There are systems designed for both 2-door and 4-door Jeep owners as well as BackBone systems for pickup trucks and many SUVs. It's a unique design that adds strength without compromising the looks or the function of your vehicle. The Rhino Rack BackBone for JKs and JKUs does not inhibit the ability to remove panels or even the entire roof. You'll only know it's there when you need to carry your essential gear.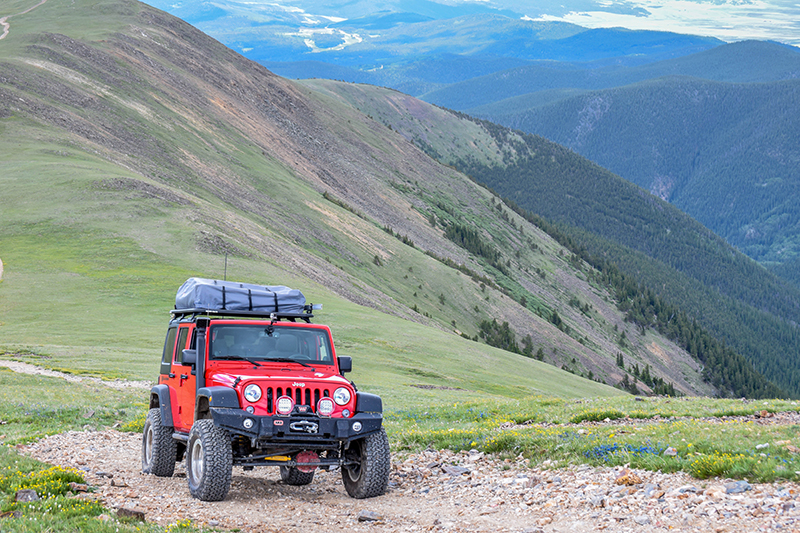 Likes:
Lightweight aluminum construction
Incredible amount of attachments and accessories for any activity or adventure
Large selection of sizes and unlimited fitment possibilities
Dislikes:
The large, wide slats on the full-size platform render the sunroof useless
Holes need to be drilled into the slats to mount a roof top tent
The unique channel mounts make many attachments proprietary in nature
TeraFlex Nebo Roof Rack
$499+
by Alan Ellis
The Nebo Roof Rack system is a relatively new product from TeraFlex for the Jeep Wrangler JK. It is beautifully engineered and serves as a truly functional cargo rack, while also providing an exceptionally complementary look for your JK. The standard kit comes with a choice of either black or silver components and includes rails, panels, brackets, minor tools, and all hardware. The rack currently fits only the 2011-2017 Wrangler Unlimited 4-door. I installed the black rack on a 2014 Unlimited Rubicon and also installed the Cargo Slat kit, which is an additional option.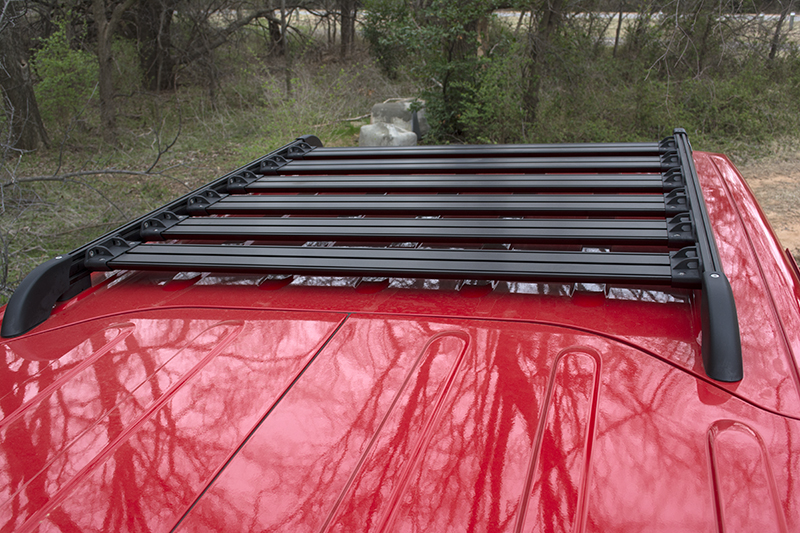 Installation is not technically difficult, but does require patience and precise measurement.   The written instructions are fairly clear, and there is an outstanding and somewhat whimsical installation video available on the TeraFlex website. At times, I found that parts of the written instructions were different from the video, but in the end the video proved to be a better reference during the somewhat tedious installation process. Each step had to be done in precise order for the next step to work properly and that's where the patience comes in. Get in a hurry and mistakes will be made.
 I'm not a mechanic by any stretch of the imagination, but had no real issues with the install. The most intimidating part was the measuring and drilling of holes in the roof of the Jeep hardtop. While TeraFlex provides a nice template to tape to the roof prior to drilling, the template and measuring instructions could use some tweaking. Again, patience is the key. I measured and re-measured for over an hour, but since you are drilling 16 holes in your hardtop, you'll want to get this right. I highly recommend watching the video and reviewing the instructions before beginning the installation to decide for yourself whether or not to tackle the install. Your local TeraFlex dealer is always an alternative to doing it yourself.  

After a seven-hour installation, I was very happy with how the Nebo Roof Rack turned out.  The combination of functionality and aesthetics gives the Jeep a solid cargo platform, plus it looks amazing! The curved trim pieces look great with the edges of the factory top. It has a solid feel and I wouldn't hesitate to load it up for the road. The rack has a static cargo capacity of 850 lbs. — perfect for a roof-mounted tent — and a dynamic (moving) capacity of 200 lbs.  What makes this possible is that the rack brackets are bolted directly to the factory sport bar instead of only to the roof of the Jeep.  This means that four additional bolts must be removed in order to take off the hardtop. On the plus side, the hardtop removal is easier because the roof rack can be used to hoist and store the top. 
Overall, I was impressed with the Nebo Roof Rack and Cargo Slat kit. In my opinion, the rack should come standard with the cargo slats, but I can see the TeraFlex logic in giving customers another cargo and price option. I tried both with and without the cargo slats, and the rack definitely looks better with the cargo slats than without them. This product is highly recommended for anyone wanting a quality, lightweight, great-looking rooftop cargo system.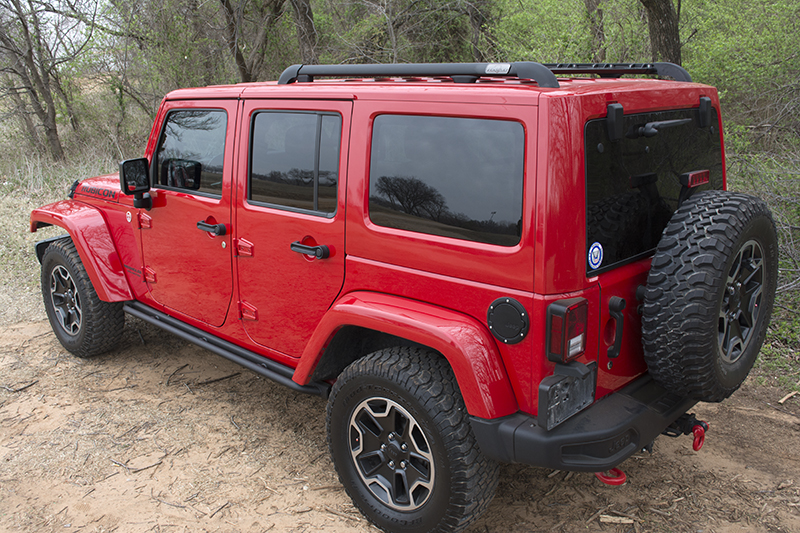 Likes:  
Factory appearance and aerodynamic aesthetics 

Rugged, bullet-proof construction with quality components 

Works easily with after-market sports equipment carriers 
Dislikes: 
Installation instructions and measuring process is a bit cumbersome
Price as reviewed:  $639.00 which includes the slat kit.  Without the slat kit:  $525.00.
* OutdoorX4 Magazine – Promoting responsible 4×4 adventure travel and outdoor recreation