I've been a mapping and navigation enthusiast for as long as I can remember, and if I know anything, it's this: There is no single product or service that will be perfect for everyone. It is possible, however, to find a great set of tools to help make any OutdoorX4 adventure much more rewarding.
Below you'll find some of my thoughts regarding devices, apps, and data providers. This guide could never be all inclusive, so please do plenty of research before spending your hard-earned money on any of these solutions.

GPS Devices
A variety of devices are available to plan, track, and (in some cases) document your adventure. The exact type of device you use is usually determined by features, price, use case, and personal preference. During our Continental Divide Mapping Expedition with Hema Maps, we used three redundant iOS devices to track every mile, as well as a Garmin handheld GPS as an additional backup.
For each unit below, I've listed whether it can connect to the internet for updates, if it's (primarily) a stand-alone device, if it can take photos/videos, does it sync your data, and finally, does it support sharing your trips with others.
Garmin $299-$699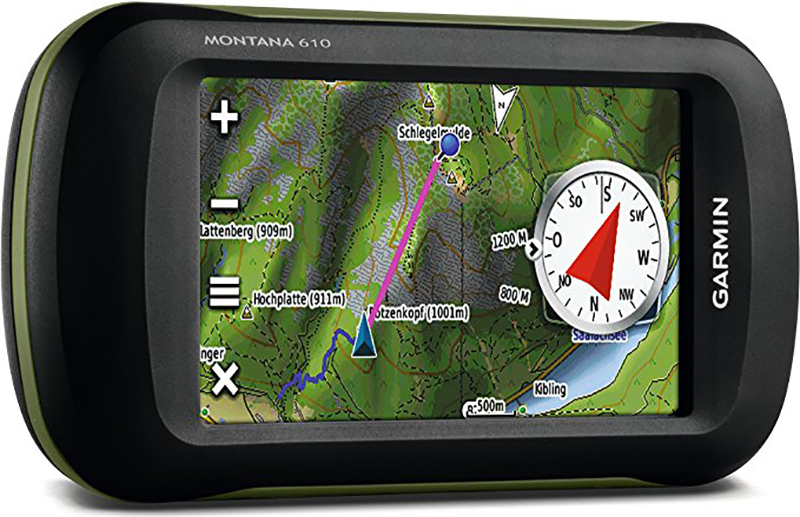 Handheld units are generally more feature-rich for outdoor adventure, but with a smaller screen. Popular tablet-style windshield mount Garmin devices can usually be upgraded with a custom data card, or purchased from vendors such as FunTreks (see below)
Connected: inReach only
Stand-alone: Yes
Photos/Videos: Some Handhelds
Sync: Some Models
Sharing: Some Models
Magellan $299-$599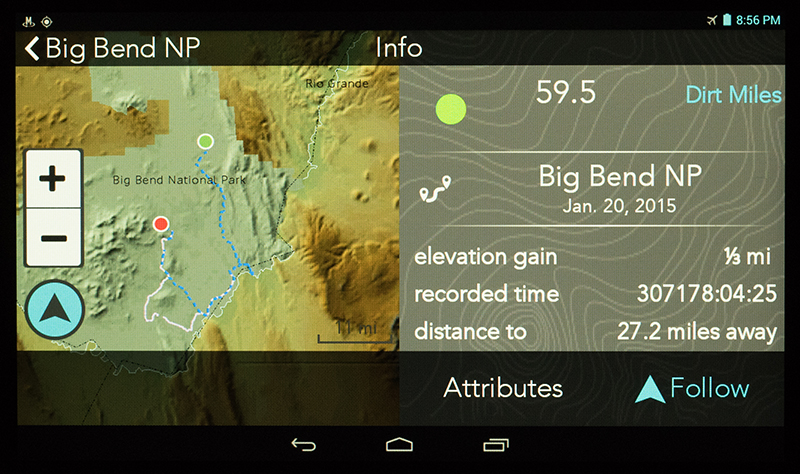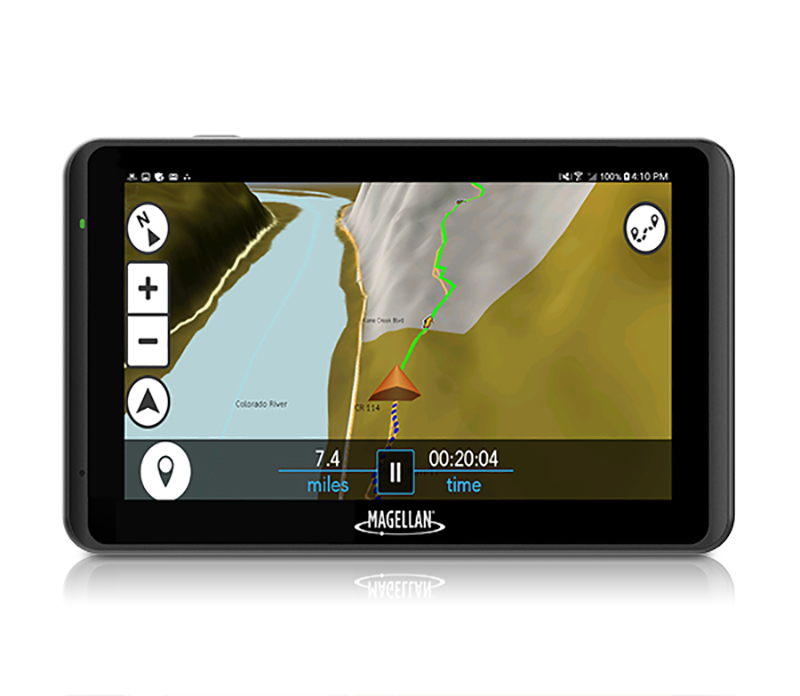 A few years ago, Magellan made a big splash with their TRX7 Android based off-road navigation tablet. The line now includes the TR7 and new TR5, which is a 5" tablet priced at $299.
Connected: WiFi
Stand-alone: Yes
Photos/Videos: Yes
Sync: Yes
Sharing: Yes

Lowrance $449-$4999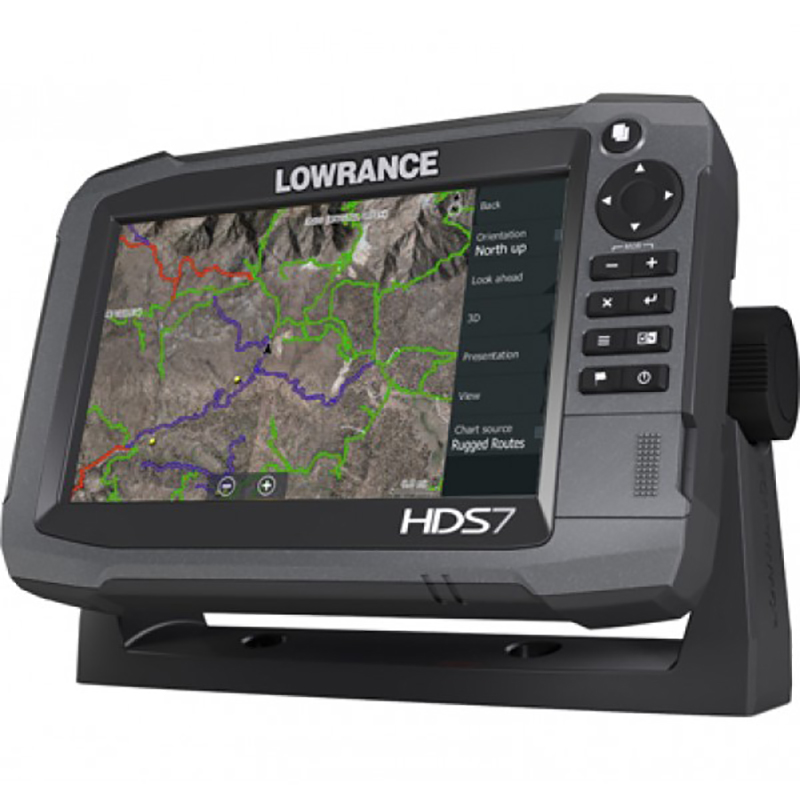 While Lowrance now focuses mainly on marine devices, it's still possible to purchase Topo enabled units through resellers like Rugged Routes. The Lowrance GPS has been a favorite of Baja racers for years due to its ruggedness and quick updating GPS hardware.
Connected: Varies
Stand-alone: Yes
Sync: Not directly
Photos/Videos: No
Sharing: No
iOS/Android phone ($0-$1299)
If you already have a late model iOS or Android based smartphone, there are many apps available to guide your adventure. Paired with a great dust & water-resistant case (I really like Life Proof as well as Pelican) and a suction mount (RAM & Nite-Ize make great hardware), your phone could be the perfect nav device.
Connected: Yes
Stand-alone: No
Sync: Yes
Photos/Videos: Yes
Sharing: Yes
Android tablet $100 +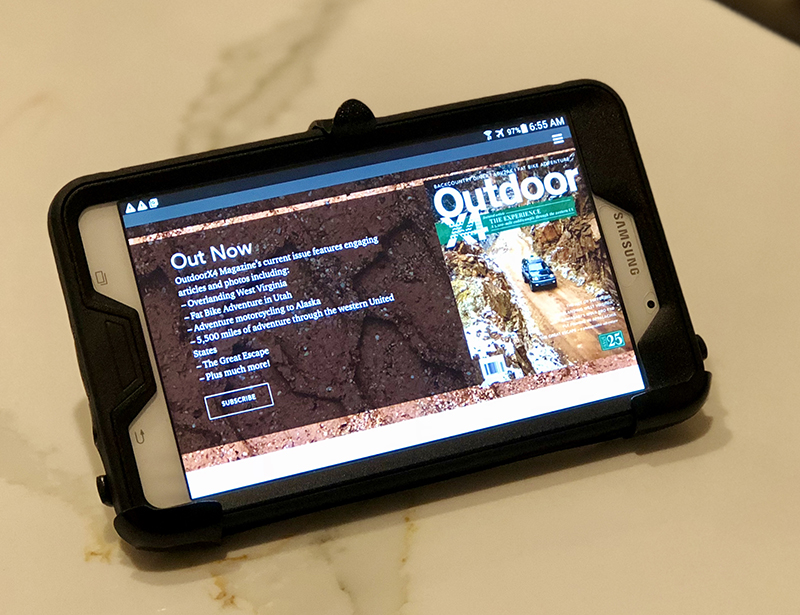 If you prefer the Android ecosystem, a stand-alone tablet may be the perfect solution. Suitable tablets can be found for < $200, and software like Back Country Navigator (below) can provide all the information you need.
Connected: Yes
Stand-alone: Yes
Sync: Yes
Photos/Videos: Yes
Sharing: Yes

iPad $200+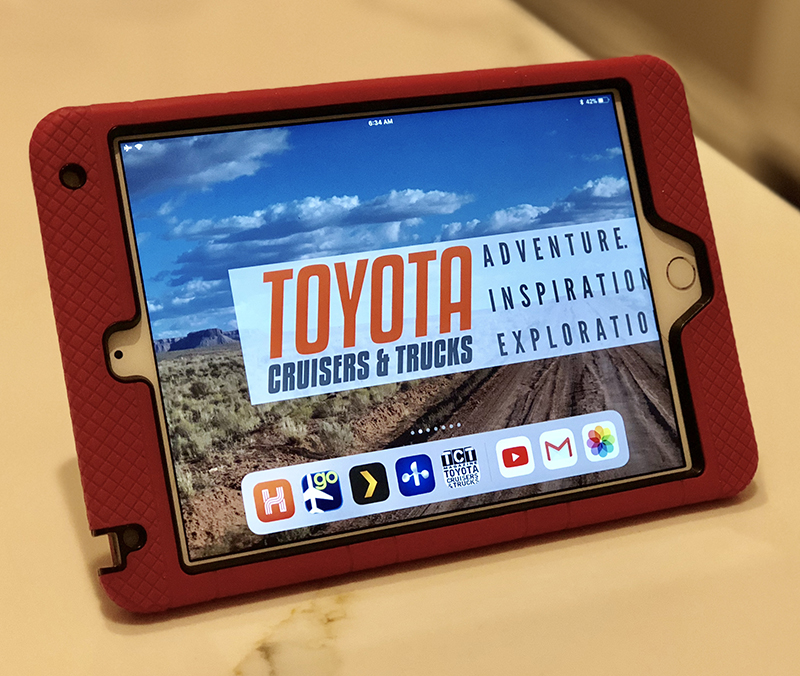 For those that prefer to use the iOS platform, the iPad-Mini can be purchased new for $399 or used for around $200
Connected: Yes
Stand-alone: Yes
Sync: Yes
Photos/Videos: Yes
Sharing: Yes

GPS Apps
App choices include either iOS/Android or Both, whether they are free, a one-time purchase, if In-App purchases are an option, and if they require a Subscription.
AllTrails (Both | Free | Sub)
All Trails aims to gather information for every kind of trail in the country (or world). The map choices are very good, however an annual subscription is required to access the best map layers and to download the maps to your phone. Annual subscription is $19.99/year.
Gaia GPS (Both | Sub)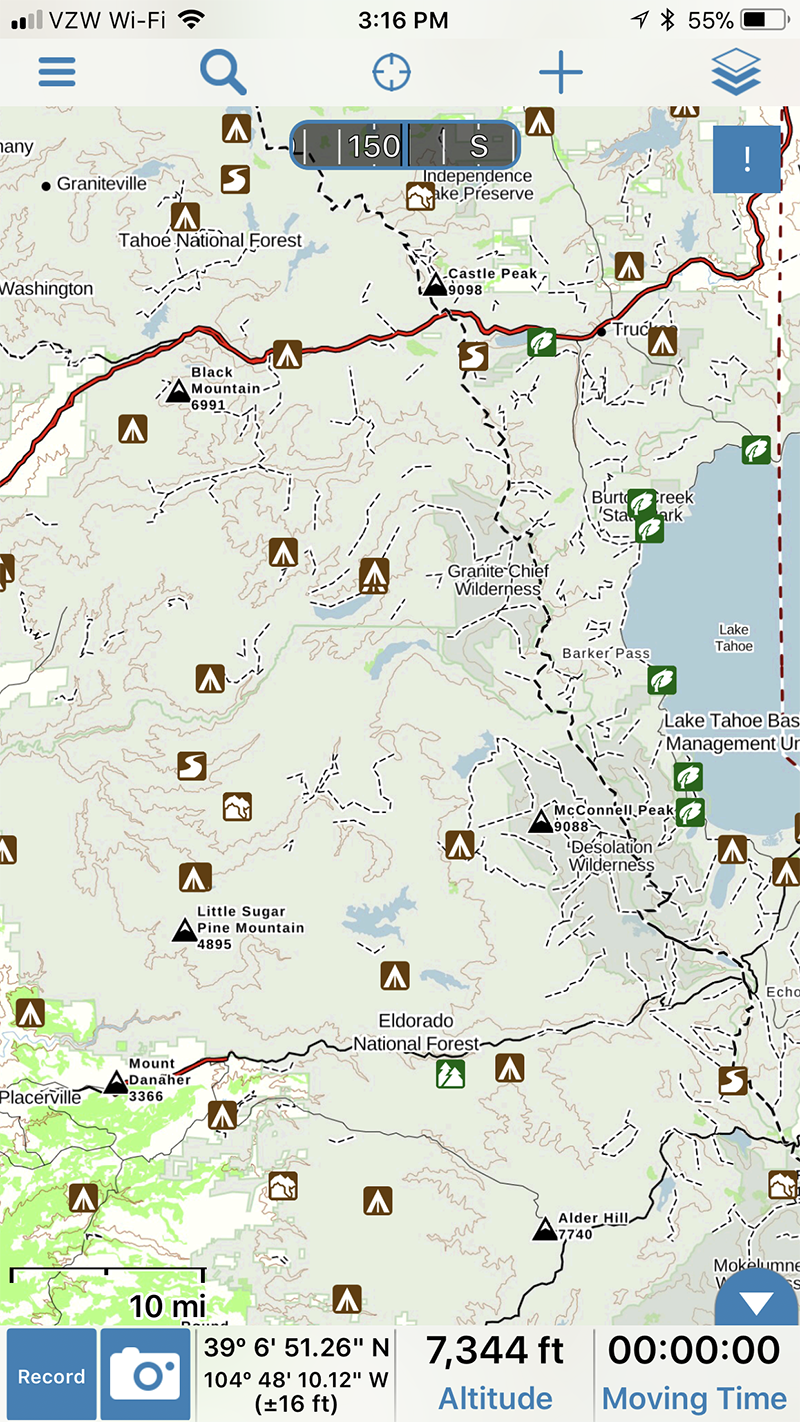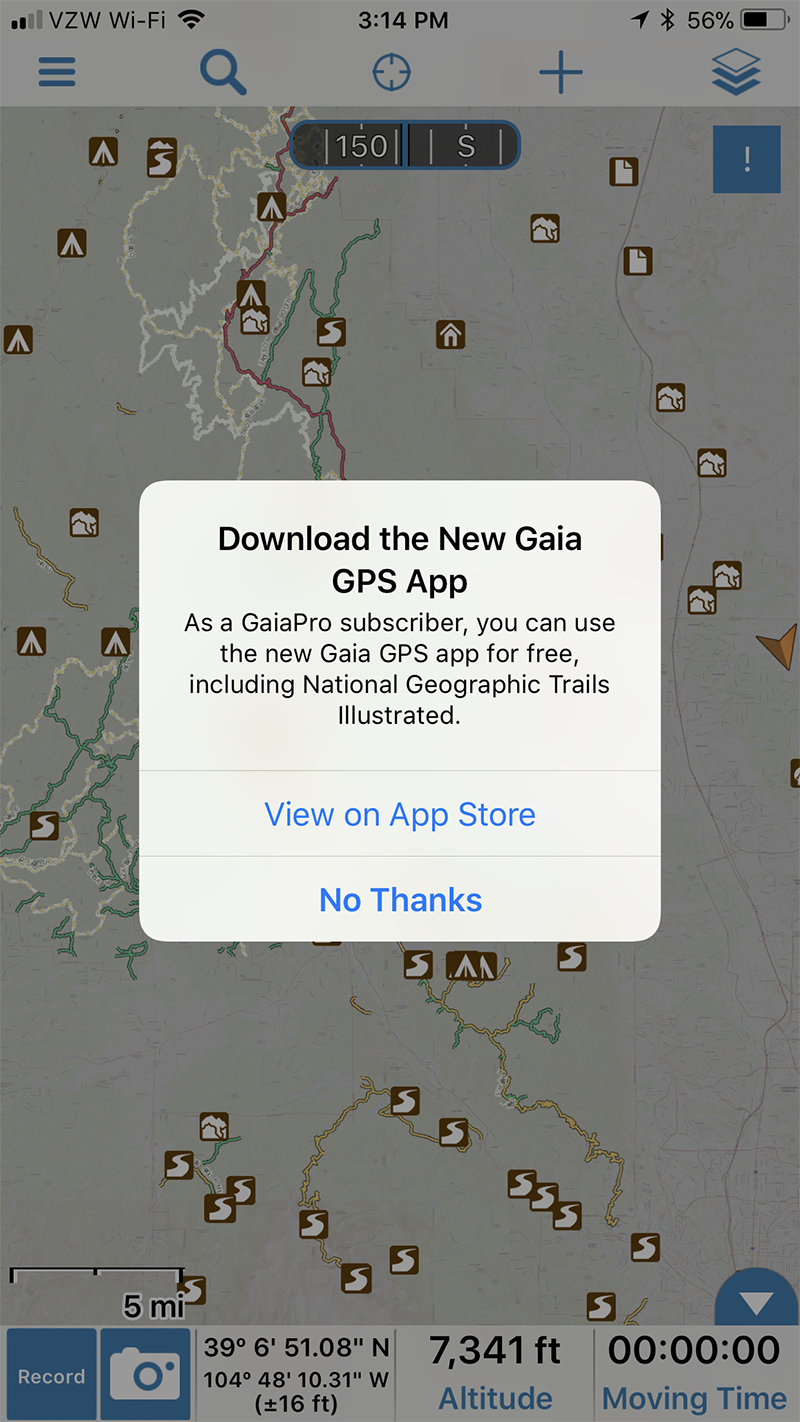 Gaia GPS is arguably the current leader in the outdoor map/app space. They have more layers than any others (if you're a member), they keep all of your tracks in the cloud, and syncing works very well. Like All Trails an annual subscription is required to access anything beyond the most basic map. Basic membership is $19.99/year and the Pro Version is $39.99. Pro members gain access to National Geographic Trails Illustrated maps, US Hunting maps, and a greater offering of worldwide maps.
Off Road Trail Guide (iOS | Sub)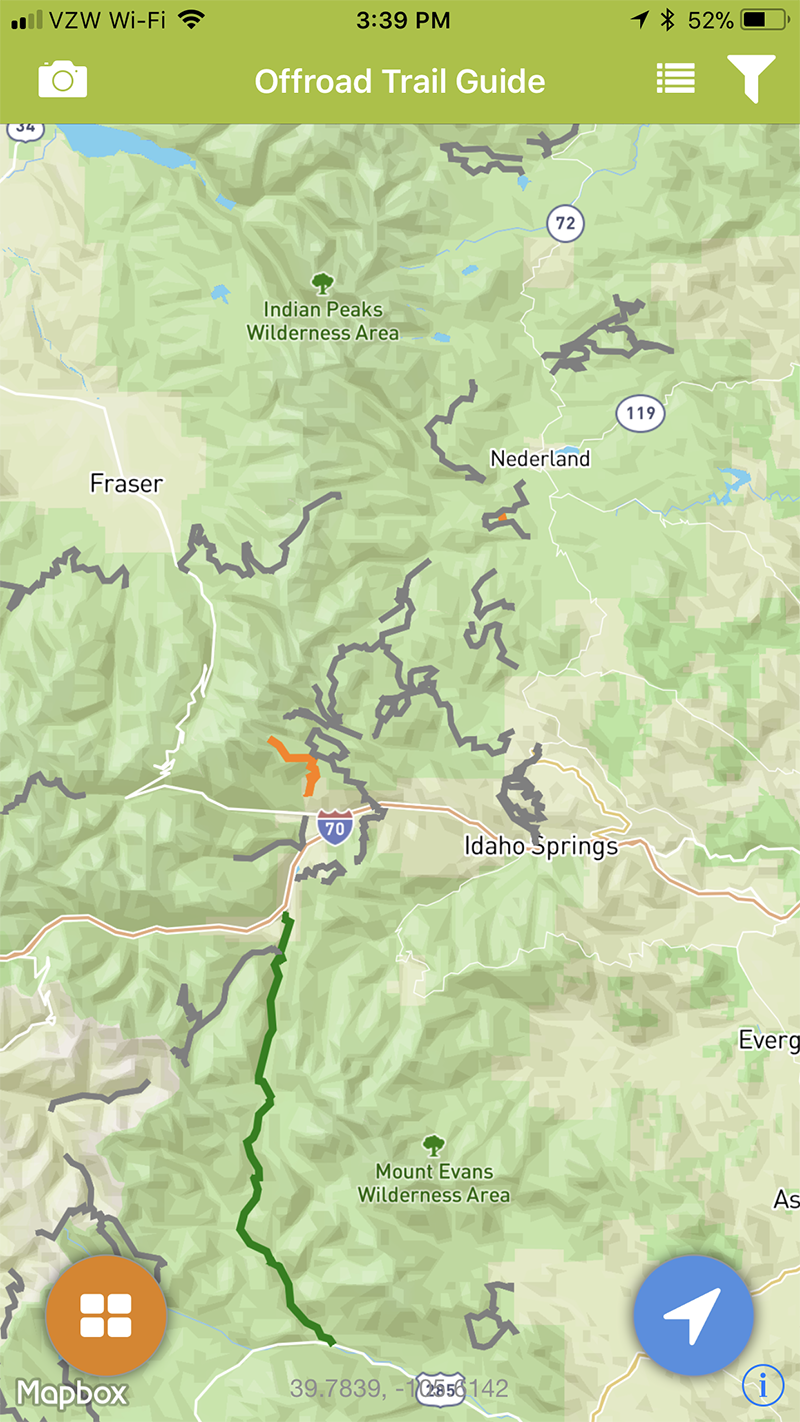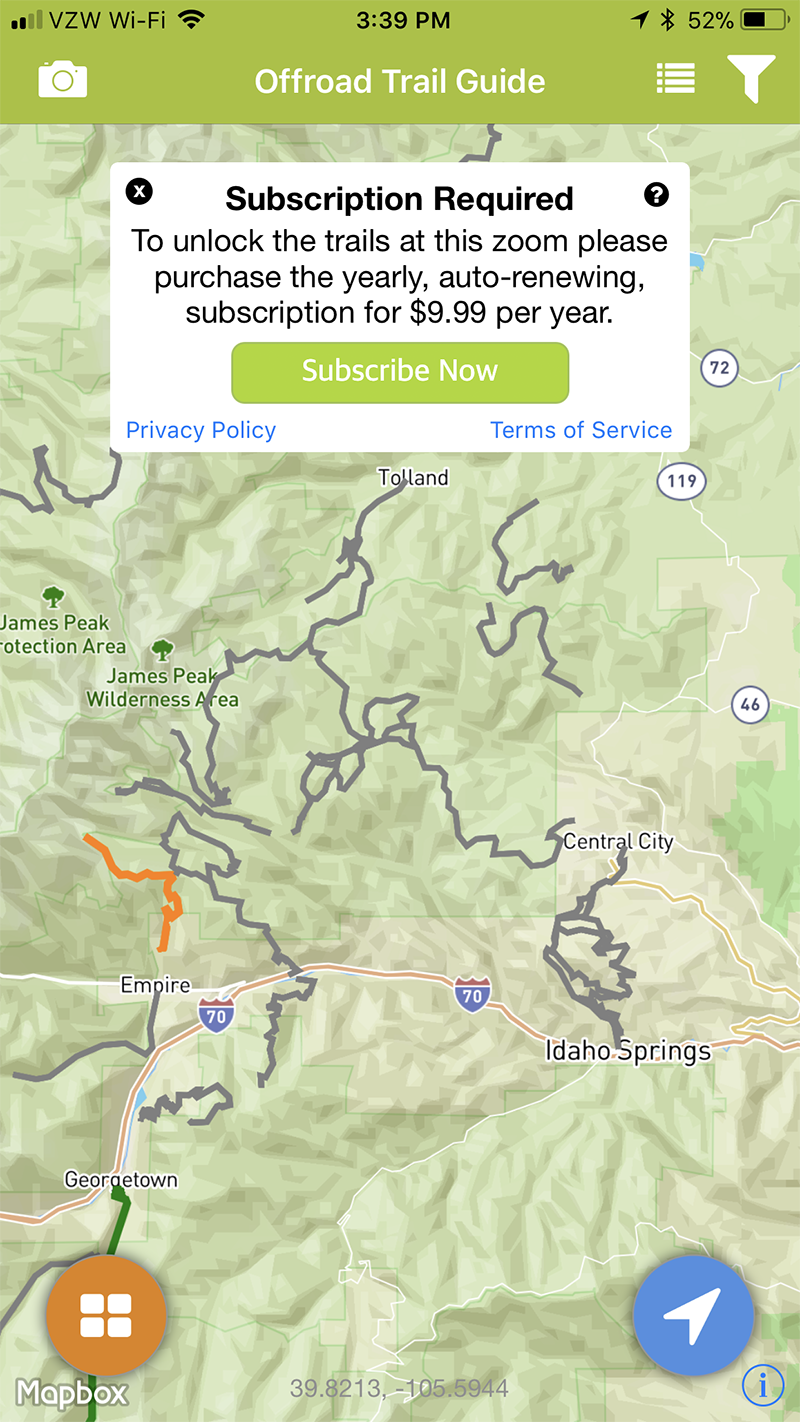 A relatively newcomer to the app scene, ORTG is free if you'd like to browse available trails, but $9.99/year to access deeper zoom levels and detailed trail information. They're currently limited to basic terrain and satellite map layers.

Hema Explorer North America (iOS |One-time)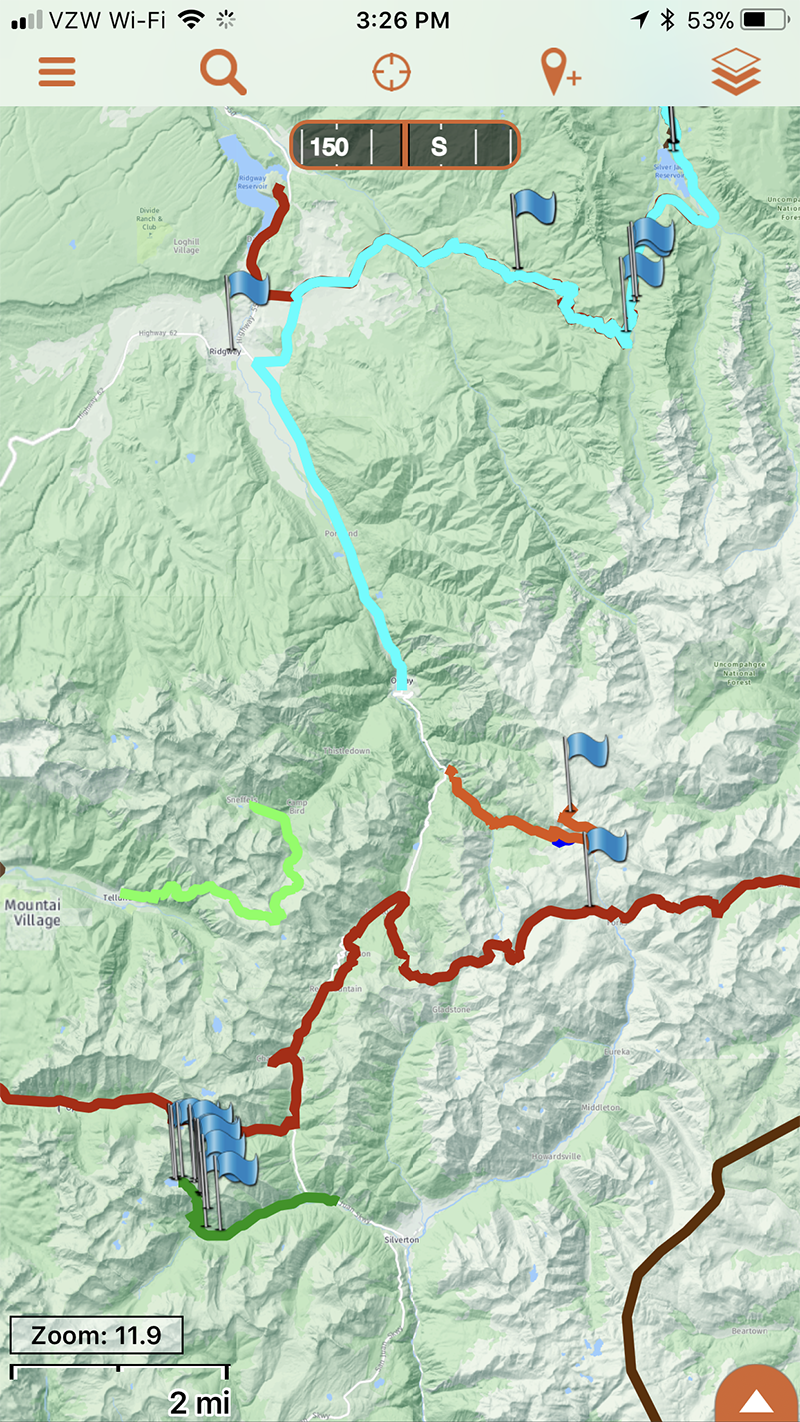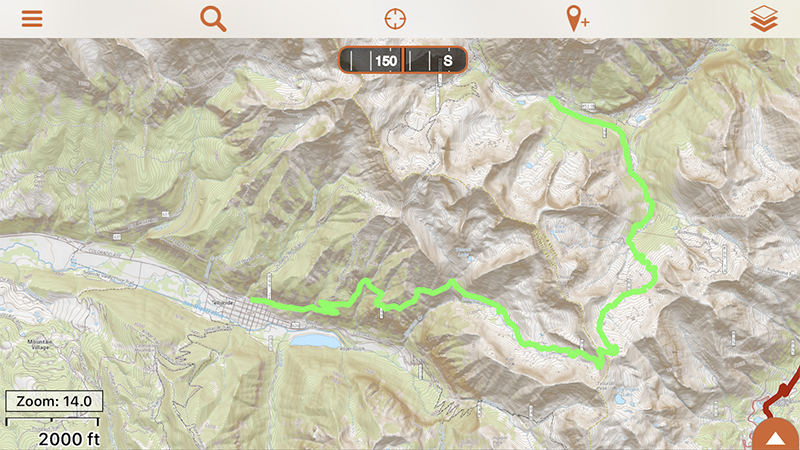 Hema Maps is known as the top back country map provider in Australia. A couple of years ago they launched Hema Explorer for North America, and have been steadily gaining traction in our part of the world. The major difference with Hema Explorer is that it's a one-time purchase and is dedicated to vehicle based adventure travel. With the Hema Explorer Cloud, you can browse trips that others have completed, add their tracks to your profile, then sync/download the tracks and multiple map layers to your device (or ANY device) with just a few clicks.
Disclaimer: I've been consulting with Hema Maps as their primary North American representative since 2016. My family & I also participated in the 2016 Continental Divide Expedition in their Aussie spec 200 Series Land Cruiser.
Backcountry Navigator (Android | One-Time | In-App)
The hands down leader in off highway navigation apps for Android, BCN has been around for a long time and is feature rich. While the interface can take some getting used to, with BCN you have total control over your data and which maps you use. The Pro version is $11.99 and you can add additional premium features (such as FunTreks data) via in-app purchases. It's also possible to share recorded data with others via GPX or KML file output.

 Avenza Maps (Both | Free | Sub)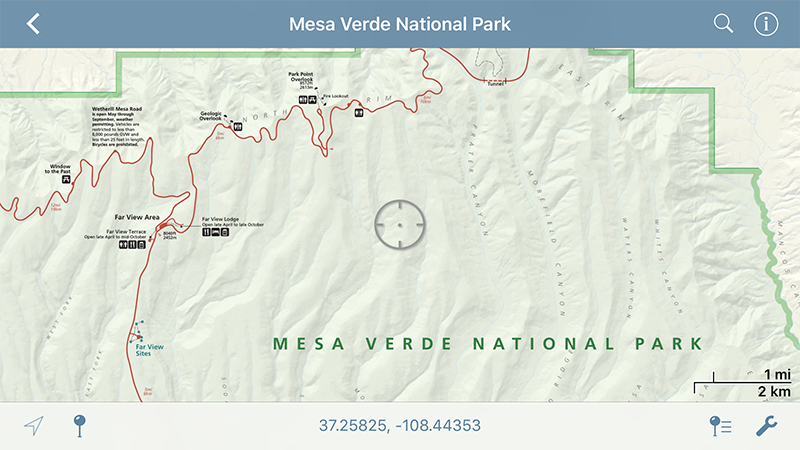 For years Avenza Maps has been the leader in georeferenced PDF maps. With Avenza, you can import and Geo PDF or GeoTIFF file into your iOS or Android device along with KML or GPX files. The free version of the app only supports 3 custom maps, but unlimited maps purchased from the in-app Map Store. Memberships that unlock additional features start at $29.99/year.
Data Providers
Depending on which hardware and app combination you choose, it's possible to import external data from providers, friends, or internet searches. Data can be used for planning or documenting your adventure, and in my opinion really is the best way to get the most out of your adventure.
Hema Cloud (Free)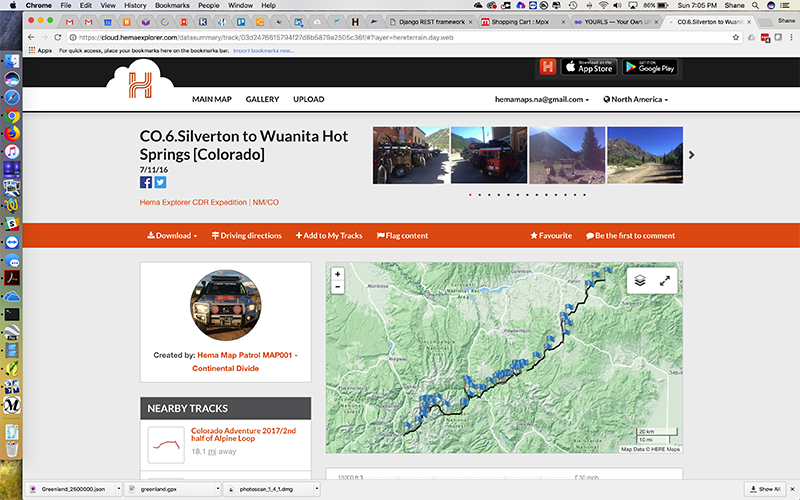 By creating a free Hema Cloud account, you can browse thousands of trips that other users have shared. The trips are all vehicle focused so it's a bit easier to get through thousands of included tracks & waypoints. If you find tracks you'd like to use on your adventure, you can add them to your profile and sync to your device. Once the data is in your profile, you can download GPX or KML versions, or sync directly to your Hema Explorer devices.

Funtreks (Free | Paid)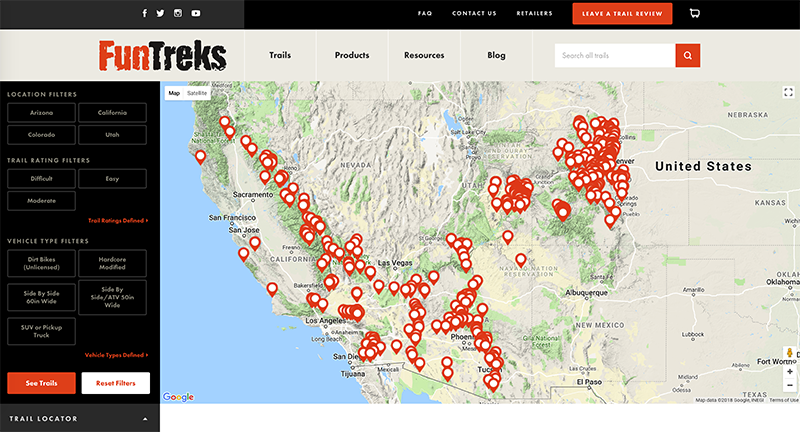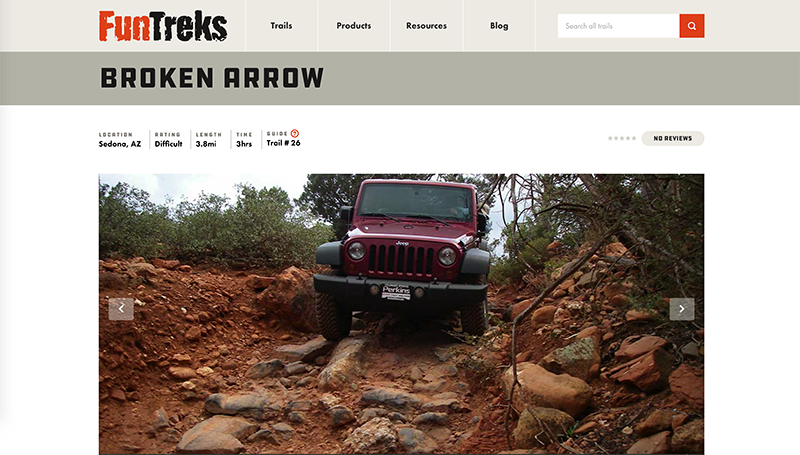 FunTreks offers waypoints for over 500 routes covering Colorado, Moab, California, and Arizona. In recent years FunTreks has created several ways to access their data: You can purchase a data card that's compatible with most Garmin devices but also contains GPX files suitable for many other systems or apps. FunTreks also offers in-app purchases for Back Country Navigator, and they've released an iOS App that includes all of their trail data with offline map support. All of the FunTreks data is meant to work with their guidebooks, so consider adding the guidebook for your preferred area to your navigation go-bag.
TrailDamage.com (Sub)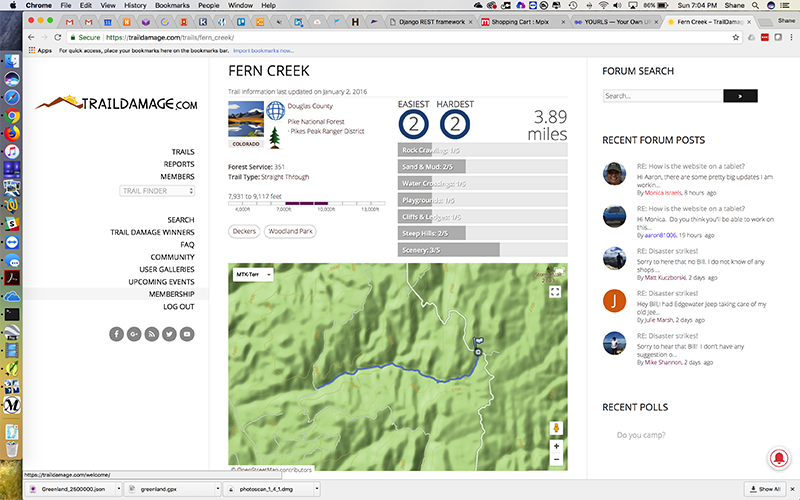 For years Trail Damage has been one of the top sites for off-road track information. They have hundreds of trails covering much of the western US, all available in GPX format. The site recently moved to a subscription system, so it now costs $12/year for access to the data.
TrailsOffRoad.com (Free)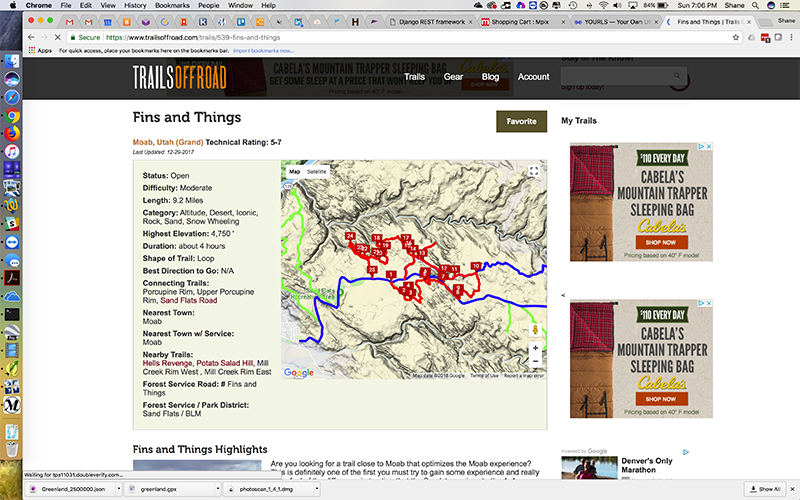 The newest site to offer great trail information, TrailsOffRoad has built a network of writers who 'adopt' trails in their local area. Writers are required to run the trails at least twice per year in order to keep the data updated. The site is free, but requires registration if you'd like to access detailed information & GPX downloads.

CartoTracks (Paid)
CartoTracks offers custom off-road maps of 4×4 trails and major off-road events (think King of the Hammers). Maps are delivered as PDF downloads, so you'll need an app such as Avenza Maps to import them to your device for navigational use. Some maps are free, others start at $7.99 and may only be used on one device.
I've noted several places to obtain track information. I must note that you, the explorer, are responsible for ensuring that you are traveling on a legal route. For areas within a US National Forest, the printed Motor Vehicle Use Map is the legal document designating open routes. There are options to find this information digitally, but those sources (including the USFS Visitor Map) are secondary to printed maps. Local and state regulations will also determine when and where you can legally explore, so please research your area before going.

About Shane Williams: Shane has been an outdoor enthusiast and avid backroad driver for over 20 years. He began by exploring Michigan's northern forest roads as a teenager, which led to his first Jeep Cherokee when he moved to Colorado Springs in the 90's. He later went on to launch FJC Magazine in 2008 as a 'healthy way for me to deal with my addiction', followed by TCT Magazine in 2011. Shane resides in Colorado Springs, Colorado with his family.
* OutdoorX4 Magazine – Promoting responsible 4×4 adventure travel and outdoor recreation