The FJ Company Releases New Alpine-Inspired FJ43 Land Cruiser at SEMA
November 1, 2016
The FJ Company is making its debut at the SEMA show in Las Vegas this year, and they're bringing a very special build with them: a custom FJ43 Land Cruiser referred to as "The Aspen Project".  The build, which was unveiled at their booth #51315 at SEMA earlier today, is one part classic Land Cruiser, one part modified monster — a careful balancing act — one they DID NOT take lightly.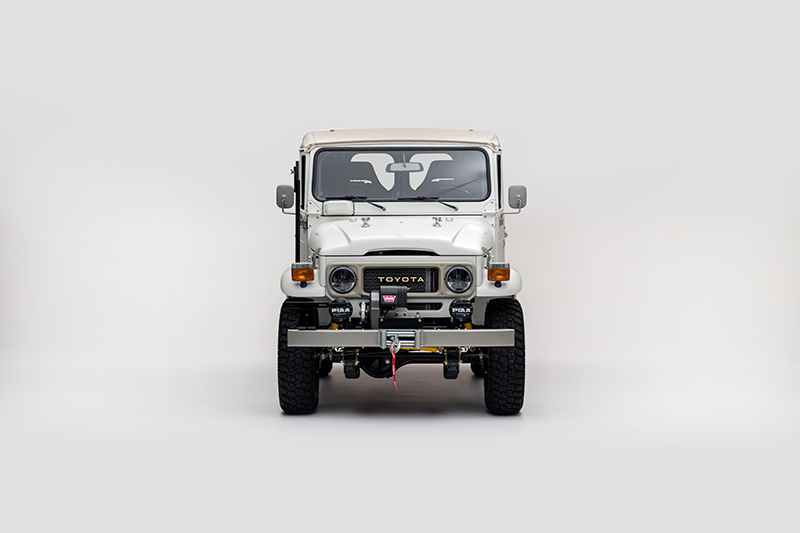 What was the inspiration behind this build? It was commissioned by the President of the company, Juan Diego Calle, who wanted a purpose-built, family-friendly beast that could take on the rigors of everyday highway driving as well as the back-country near Aspen, Colorado. Did they deliver? We'll let you be the judge.
FJ Company FJ43
A Return to Glory
Like all The FJ Company builds, this one began with a full frame-off restoration. During the restoration process, they made a few "basic" updates to the power steering, front disc brakes, heating and A/C. But that's where the "basic" part of this story ends — and the fun begins!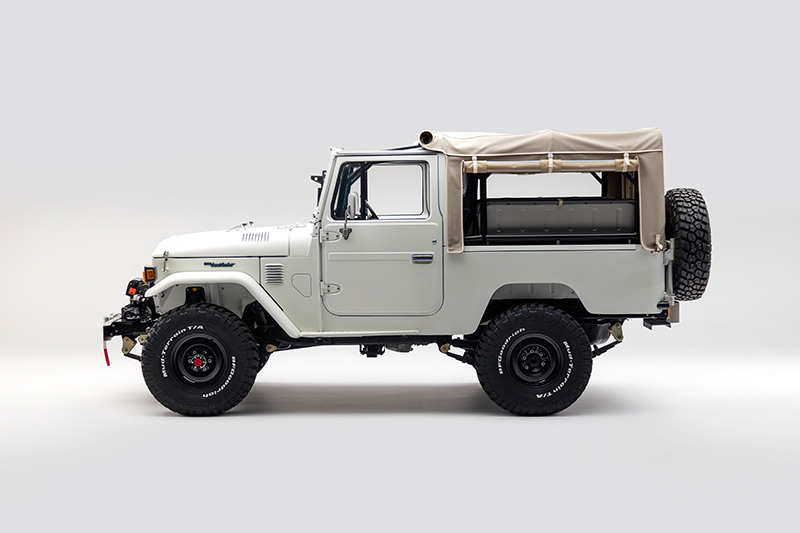 A Powertrain Power Play
The party really began when they replaced the original engine components with a much more capable, modern powertrain. Look under the hood of this FJ43, and you'll find a 210-horsepower Toyota 1FZ engine (a 4.5L DOHC 24-valve inline 6 with Haltech Electronic Fuel Injection and a 5-speed manual transmission. Put that all together and you get the kind of power that inspires confidence — on the highway and the trail.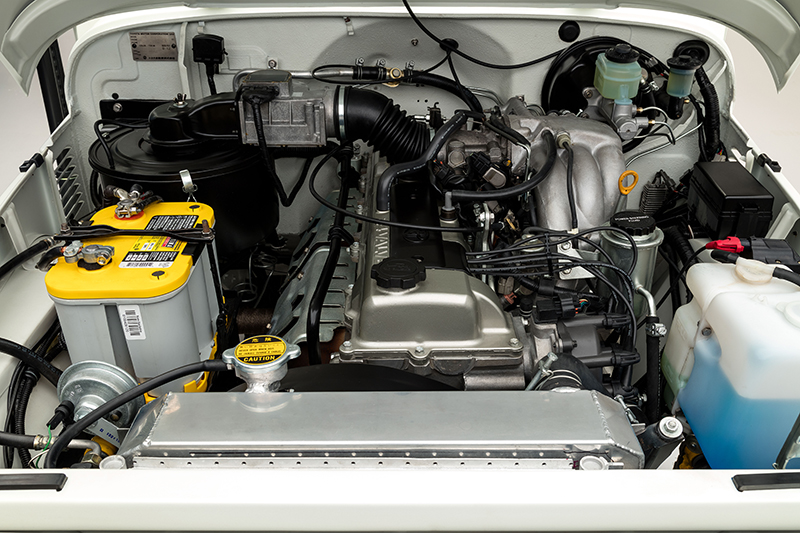 Equipped for the Trail
The Toyota FJ43 Land Cruiser is already a design legend. Those bold fenders! That classic headlight bezel! …all signs of an icon. This build keeps its classic good looks intact and makes a few tasteful updates — like a fresh coat of matte white paint to the exterior which is offset by matte silver accents and Toyota OEM wheels in gunmetal gray. You'll also find plenty of trail-ready parts and accessories — like a Warn 8274 winch mounted to the original front bumper along with a pair of PIAA 7″ LED fog lights. And a custom roll cage was installed to ensure every joyride ends the way it begins — safely.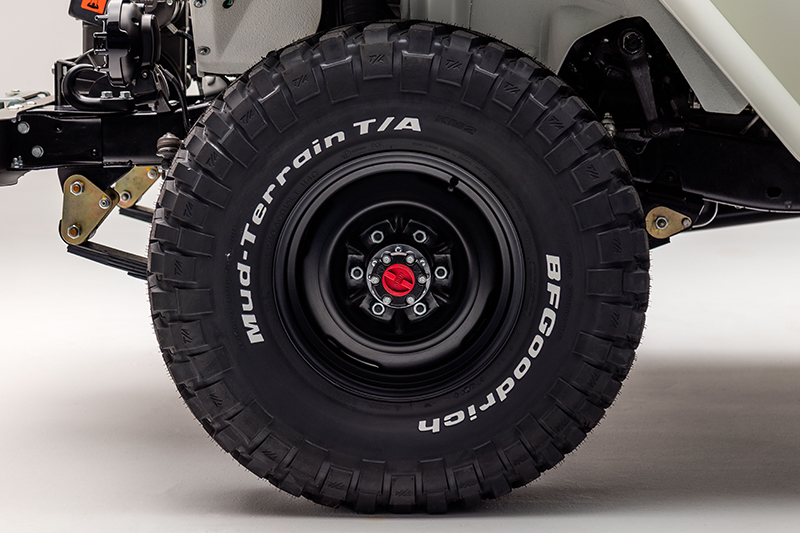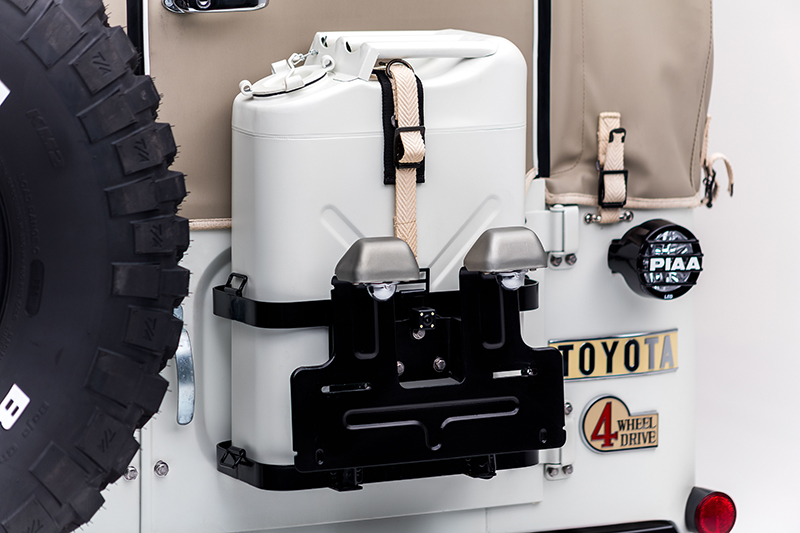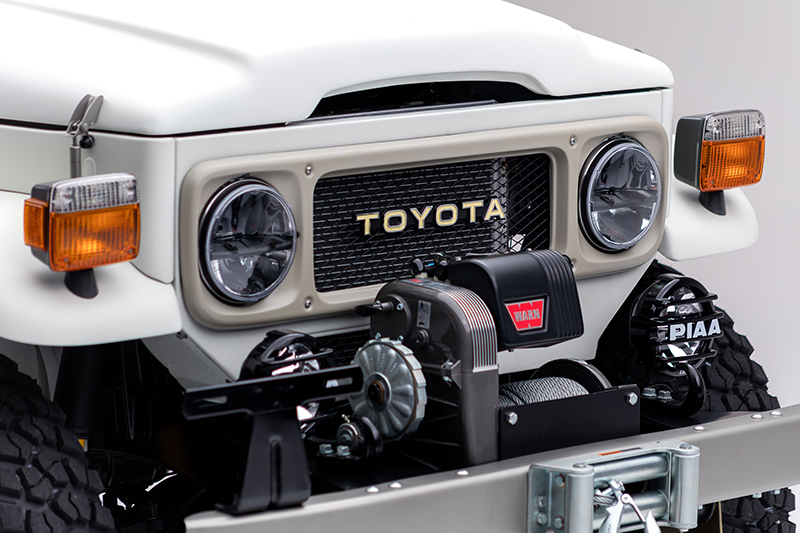 Inner Toughness
The cabin of this FJ43 has been fortified with super-tough materials. The Recaro SPEED seats are trimmed in marine-grade upholstery, to match the door panels and fold-down rear seats. They also added a coat of Rhino Linings® bedliner to prevent scuff marks and rusting. Now, this all-weather, all-terrain 4×4 is ready for just about anything.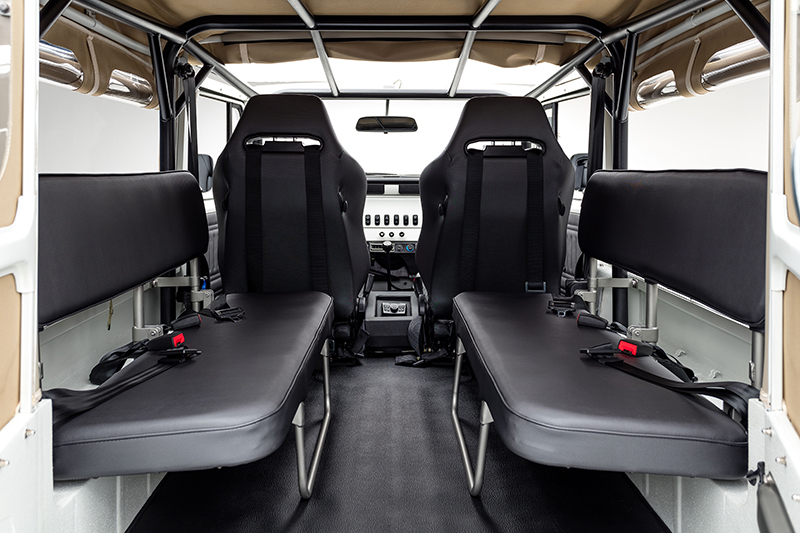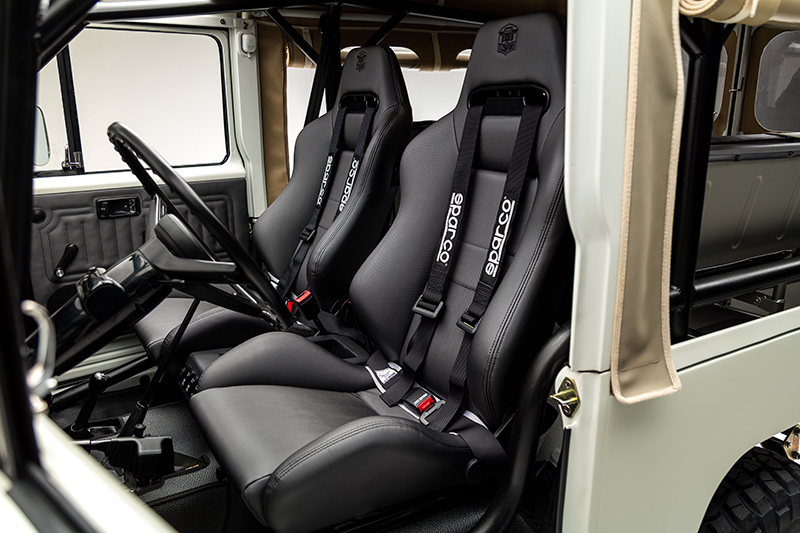 Modern Refinement
The FJ Company takes pride in building modern versions of the classic Land Cruiser – and this build really showcases that capability. They've added just enough bells and whistles to satisfy the demands of today's driver — a digital instrument cluster that provides information at-a-glance, modern LED interior lighting, and a premium sound system with integrated Bluetooth®, just to name a few.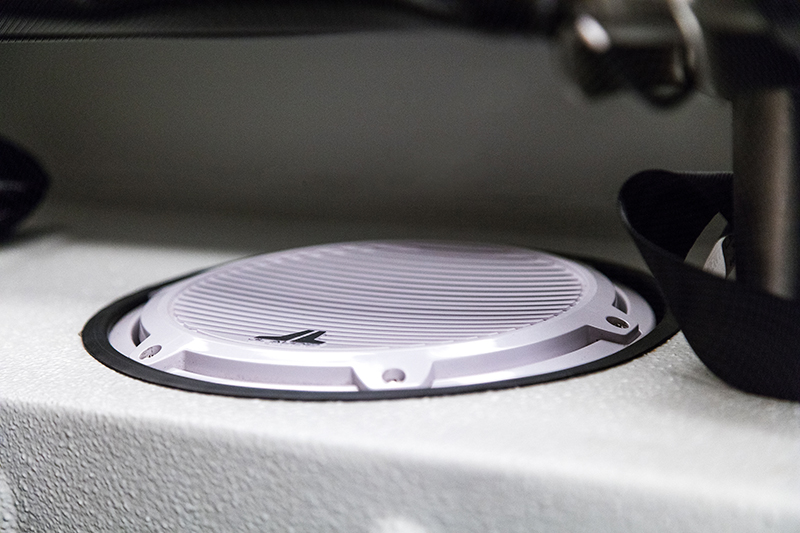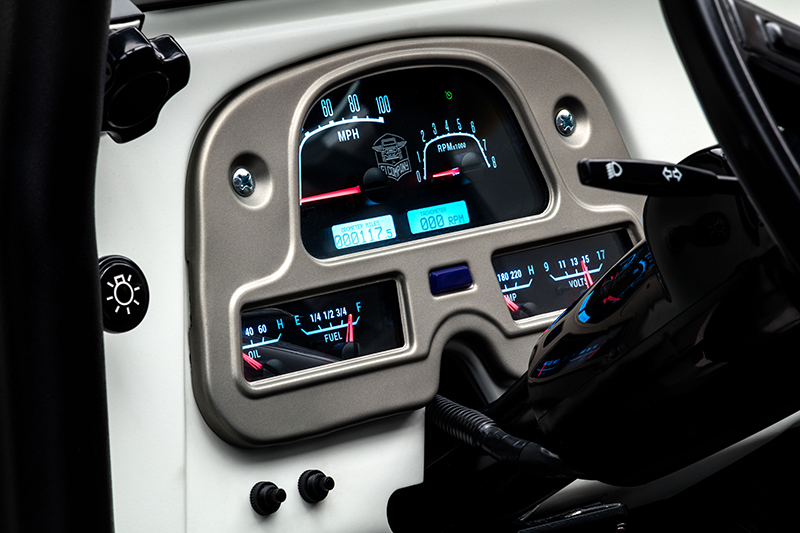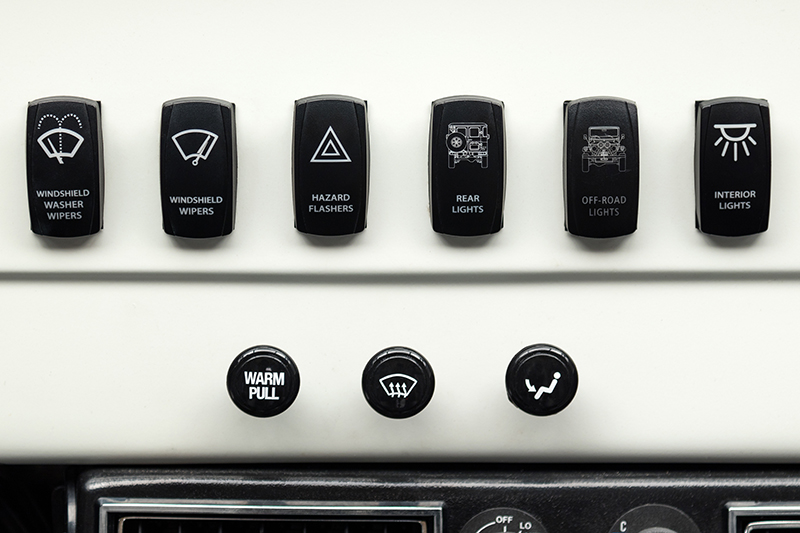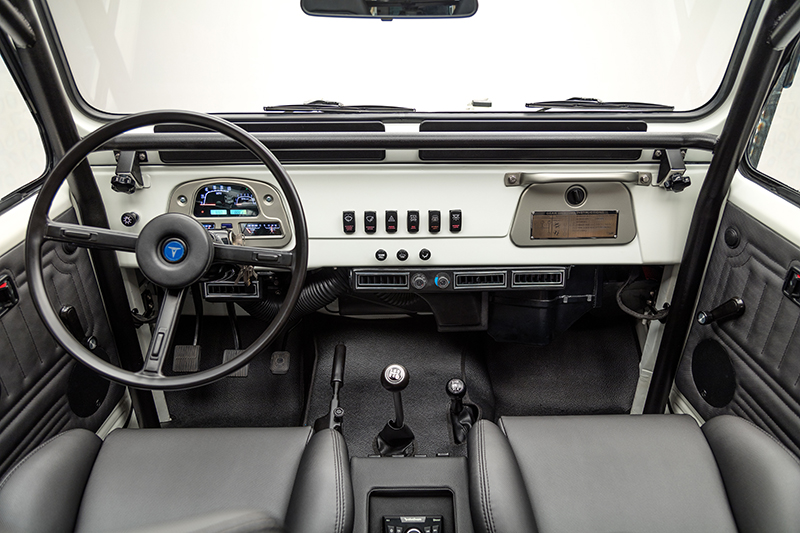 Ready for a Show-Stopping Performance?
See this landmark build in person, and meet the folks behind The FJ Company, at SEMA Booth #51315 – located inside the Performance Pavilion. They'll also be showcasing their Collector's Edition FJ45LV and Classic FJ40 in the Featured Vehicle lot, and would love to introduce you.
Can't make it to SEMA but want to see more of this rig? Check out the full image gallery of the entire restoration process at www.fj.co/sema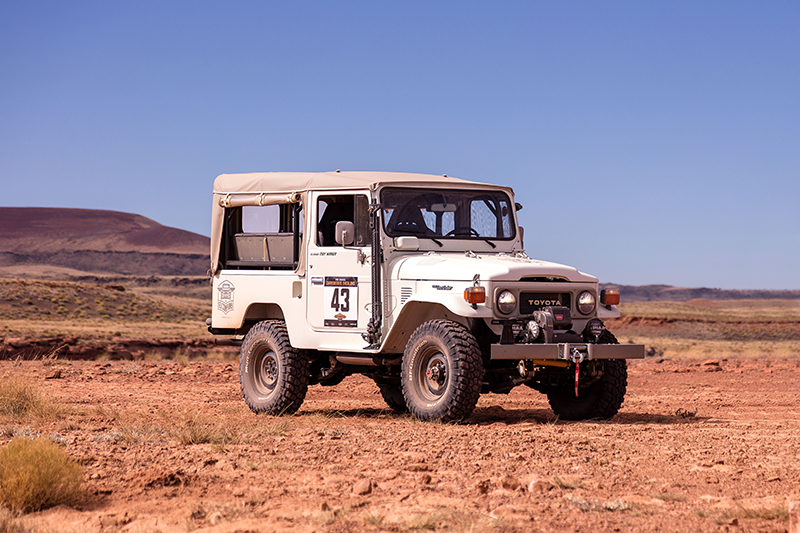 About The FJ Company
Rough and tough, yet classic and cool, the Toyota Land Cruiser holds a very special place in the heart of auto enthusiasts across the world. At The FJ Company, we share that enthusiasm and love of these iconic vehicles. We dedicate ourselves solely to performing full, frame-off restorations of the classic Japanese Toyota FJ20, FJ40, and FJ60 series Land Cruisers – creating modern versions of this classic ride for today's driver.
Whether you select from one of our available packages, or want to work with us to build your own custom rig, we are here to help you experience the joy of driving an authentic Land Cruiser. Learn more at www.fj.co
* OutdoorX4 Magazine – Promoting responsible 4×4 adventure travel and outdoor recreation